Indonesia loses more islands as victims of warming
Share - WeChat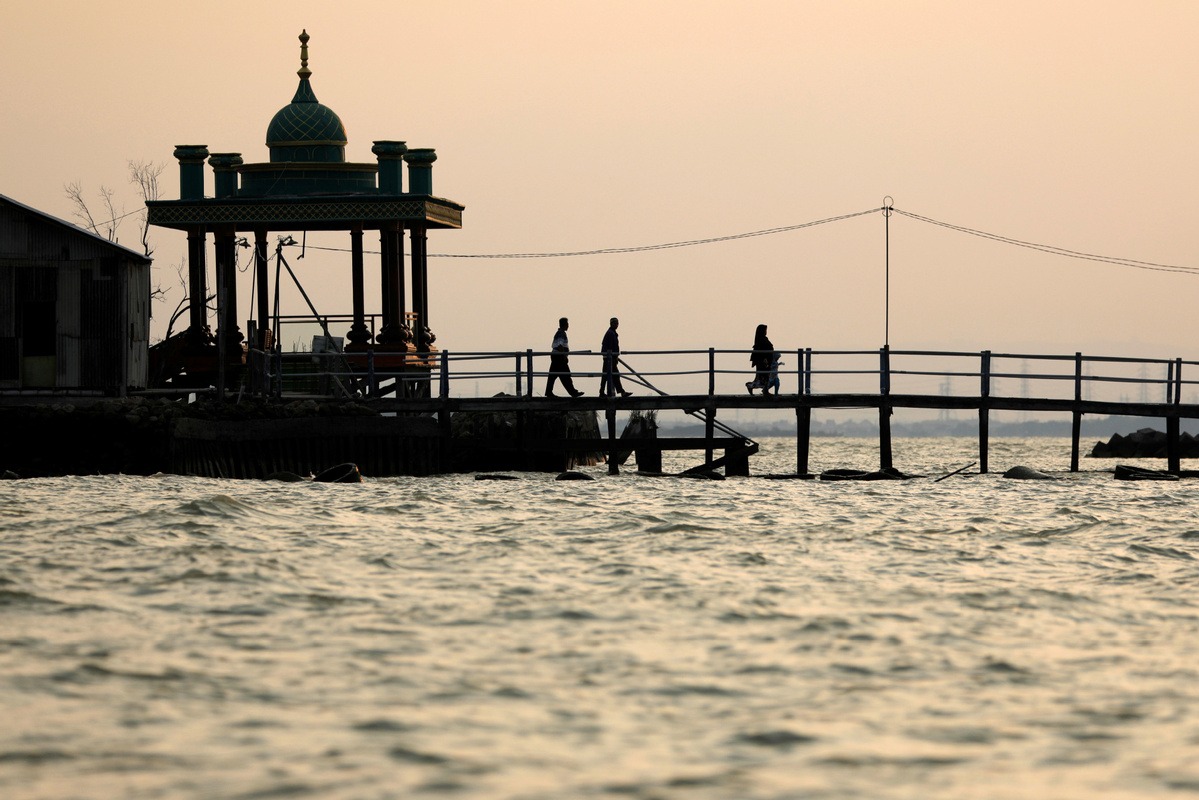 Two Indonesian islands have disappeared under water even as debate continues to rage over the impact of climate change.
It has been reported that as many as 1,500 Indonesian islands could be under water by 2050. Twenty-four islands have already disappeared off the coast of Aceh, North Sumatra, Papua and Riau, according to official research, and experts are worried this trend could accelerate.
According to the environmental group Wahana Lingkungan Hidup Indonesia, or Indonesian Forum for the Environment, which discovered the submergence in January, the islands are Betet, now a meter below sea level, and Gundul, 3 meters.
"Although uninhabited, Betet Island is a part of Berbak-Sembilang National Park," the forum's South Sumatra executive director, Hairul Sobri, said recently.
The park was declared a world biosphere reserve in 2018 by UNESCO. It is home to mangroves and diverse flora and fauna, including the Sumatran tiger and kingfishers.
Four other islands in the area with elevations of less than 4 meters above sea level could follow suit, according to the organization.
Rising seas are a great threat to Indonesia, where millions of people currently live in low-lying coastal areas across 17,508 islands that make up the archipelago, as well as to island nations across the Pacific.
And the warnings from scientists are not new, said Vinod Thomas, former senior vice-president with the World Bank.
"Scientists have issued warnings for decades about the chain of events: more carbon emissions, trapping of heat, rise in temperatures, melting glaciers, sea level rise, flooding and disappearance of low-lying habitats," he said.
The problem is that the pace of events and destruction is proving to be greater than envisaged.
Rising threat
Thomas said the disappearance of islands is a severe and rising threat across the Pacific islands.
"Now the disappearance of South Sumatra's Betet and Gundul islands is part of a trend being established. It is only a matter of years before Jakarta, Bangkok and Miami face existential threats. (Their deaths have been) cast with the neglect of climate action over the past three critical decades," he said.
That means, with the continuing rise in carbon emissions, the sea level rise could be an additional 30 centimeters by 2050,(and) up to 70 cm in worse scenarios, he added.
South Sumatra-and Indonesia as a whole-uses a lot of fossil fuels. However, Indonesia is the world's largest producer of biofuels and is scaling up for green energy.
Climate-change-driven rising sea levels, which come with further warming of the Earth, particularly threaten countries like Indonesia.
Scientists have said that Jakarta's airport will be flooded by 2035. And as sea levels rise, the government is already committed to relocating the nation's capital.
Taking a global perspective, it is clear that island nations across the Caribbean and the Pacific and Indian oceans are highly exposed. Among countries ranked with the highest risk globally on the Sea Level Rise index are the Bahamas, Kiribati, the Maldives and Tonga.