Marriage postponed in supreme act of love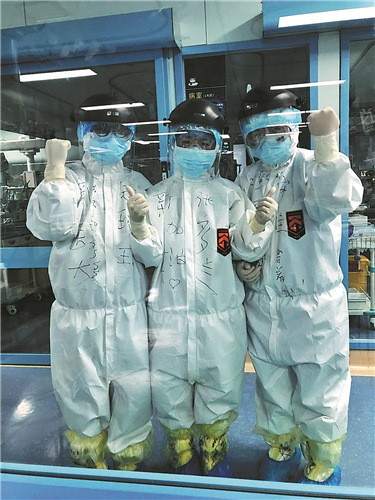 It should have been a special day for Chang Caihua. Events of that day, Feb 9, she believed would be remembered for the rest of her life. They will be, but for a different reason. That day she planned to get married to her fiance in Urumqi, capital city of the Xinjiang Uygur autonomous region.
However, the outbreak of novel coronavirus pneumonia changed everything.
As a member of the third medical team from Xinjiang supporting Hubei province, the epicenter of the epidemic, Chang, a doctor from the department of infectious diseases at Xinjiang Uygur Municipal People's Hospital, started her first workday in Renmin Hospital of Wuhan University on Feb 9.
"After arriving on Feb 7, we received training on infection control from the local hospital and then started work immediately," she says.
When she saw the exhaustion on the faces of the medical staff because of their high-intensity work, she was determined to do her best to win the battle with her co-workers, she says. The third team consisting of 142 experienced medical workers from Chang's hospital has been deployed to take charge of wards receiving patients in a serious condition.
"As a young doctor, I feel quite honored to be selected for the task and also a great responsibility on my shoulders," she says. "In the past few days, I learned from other workmates and the patients' trust has become the motivation for my persistence."
If she has any spare time after work, she checks the messages from her family members in a WeChat group her fiance has set up, telling her to take good care and protect herself.
"With so much care and great support from my hometown, I believe we can win the final victory in the fight against the epidemic," she adds.
Before entering the wards, Zhang Yumei, the head nurse from the pneumology department of People's Hospital of Hotan prefecture in Xinjiang, and her colleagues have to put on their protective suits, a task involving 12 procedural steps and check each other to make sure there are not any mistakes.
Once they put on the disposable protective clothing, they work for at least six hours.
Zhang arrived in Wuhan in the early morning on Feb 5, as a member of the second medical team consisting of 102 members from Xinjiang, which was dispatched to work in a cabin hospital receiving patients with mild symptoms.
With a 23-years work experience, Zhang is skilled in observing patients' conditions, such as their breathing.
"Some patients are nervous, and their bodies will thus show symptoms of stress," she says. "Therefore, besides the normal nursing work, we need to pay more attention to the patients' psychology and give them encouragement, which may help them calm down and actively cooperate with treatment.
"For example, there are several senior patients. We always chat with them patiently like talking to our own elderly relatives and try to meet their daily needs.
"I hope we can complete the task successfully and every member can return home safely," adds Zhang.
As members of the first support team from Xinjiang, which arrived in Wuhan on Jan 28, Liu Meng and her teammates have been working on the frontline in Renmin Hospital of Wuhan University.
Liu, a nurse at the ICU of the Affiliated Cancer Hospital of Xinjiang Medical University, has a habit of eating sparingly before going to work.
"Working in protective clothing for long periods of time can easily lead to lack of oxygen, which may cause vomiting. Many of my colleagues and I have that experience," says Liu.
"Despite the hard work, we still feel warm when we receive patients' understanding and respect," she says.
"I always encourage them that the current difficulties are temporary and victory is imminent. When the epidemic passes, I welcome them to visit beautiful Xinjiang."
Liu says what she looks forward to most is to talk on video to her family. "I didn't tell my parents until I arrived in Wuhan, but they understood me," she says. "Before I set off, my husband told me to be rest assured that he would take good care of our child. Family members' support and understanding have been my greatest motivation in work."
She says she believes spring will come soon, and victory is getting near.