Special trains helping Guangdong get back to work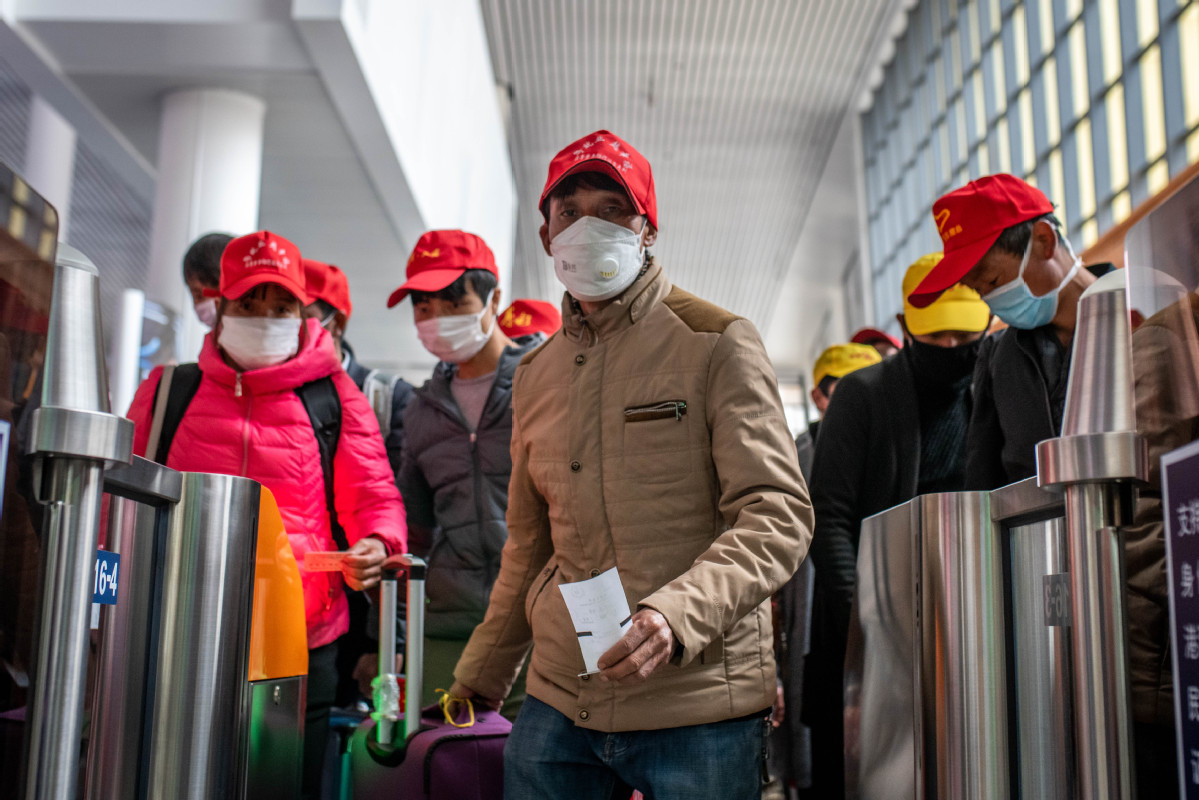 A total of 496 migrant workers arrived at South Railway Station in Guangzhou's Panyu district, wearing masks and lugging suitcases at about 10:30 pm on Tuesday.
The workers, who come from seven prefectures and cities in Southwest China's Yunnan province, were quickly picked up by coaches waiting for them before being transported to major cities in the prosperous Pearl River Delta in Guangdong province, a major global production base.
They were the first group of migrant workers who have taken special trains, provided free of charge, back to Guangdong province to start their work in local foreign-funded and joint venture enterprises after the Lunar New Year.
Tang Qiayou, a migrant worker, said he was happy to take the free train back to work.
"All the migrant workers have had strict heath check-ups and temperatures measured before they were allowed to board the train to Guangdong province," he told local media upon arrival at the railway station.
Two doctors were also on board to help monitor the health status of passengers, said Tang, who has been working in Guangdong for 11 years.
"Local township and county governments in Yunnan province organized special coaches to help send the migrant workers back to Guangdong after our health checkups," he added.
Ge Guoxing, deputy director of the Guangdong Department of Human Resources and Social Security, said his department plans to organize at least 10 special trains to help transport migrant workers from major labor outsourcing provinces and regions, including Yunnan, Sichuan, Guizhou and Guangxi Zhuang autonomous region, back to Guangdong to help ease the province's labor shortage in the coming weeks.
Ge said the migrant workers from Yunnan province are just part of the growing number of workers who are now returning to Guangdong, one of the country's economic powerhouses.
Ge predicted more than 9.6 million workers out of the 10.4 million who left Guangdong for home to spend the holiday with family members will gradually return to the province in the weeks to come.
The Guangdong Department of Transportation is also organizing special coaches to major labor outsourcing regions to help transport migrant workers back to Guangdong, home to a myriad of foreign-funded companies, joint ventures and private firms, while expanding health checkups at major highway checkpoints, bus terminals, piers and ports to prevent and control the outbreak of the novel coronavirus pneumonia in the province.