Medical worker couple puts in endless effort to battle virus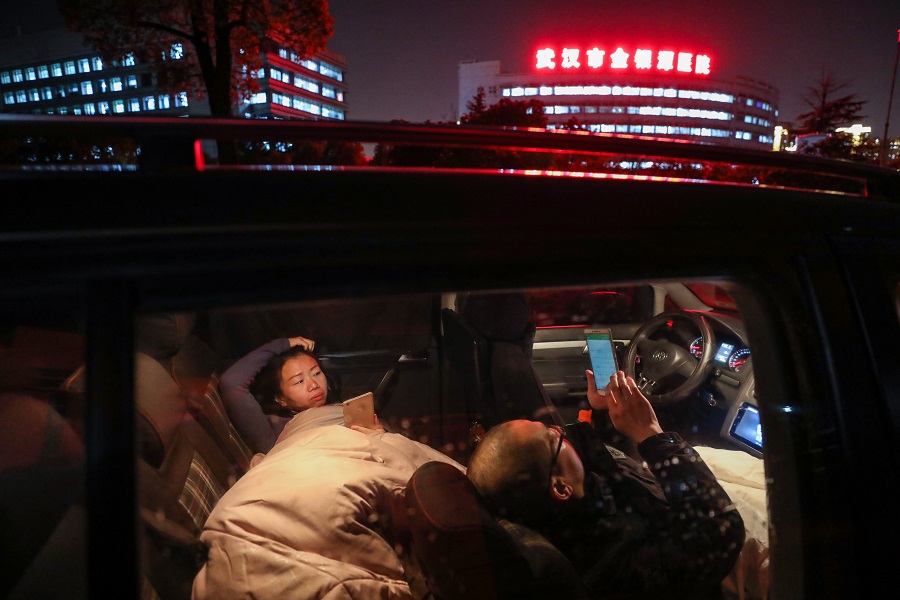 At 10 pm on Sunday, the light inside a multipurpose vehicle in the parking lot of Jinyintan Hospital in Wuhan, Hubei province, revealed a middle-aged couple preparing for bed. Tu Shengjin, a 44-year-old doctor, and his wife, 40-year-old nurse Cao Shan, were getting out quilts and preparing to sleep in their vehicle for the 23rd night since the novel coronavirus pneumonia outbreak.
Tu works on the sixth floor of the hospital's quarantine section, while Cao, who worked as a nurse in the pediatric wards, transferred to the hospital's isolation section on the second floor on Jan 7.
Jinyintan Hospital was one of the first medical facilities designated to treat severe cases in Hubei province. It received the province's first group of novel coronavirus pneumonia patients on Dec 29.
The couple's home is 30 kilometers from the hospital and it takes 40 minutes for a one-way trip. Before the outbreak of the virus, the couple drove to the hospital together. However, in the early days of the outbreak, Tu was placed on call 24 hours a day, seven days a week, and couldn't drive his wife home, which forced her to take public transportation.
After the lockdown of Wuhan, all public transportation was suspended. Even though the hospital has dormitories for its medical workers, they were fully occupied because of the hospital's remote location and the lockdown.
That meant Tu had to rush between the hospital and his home to pick up or drop off Cao. On Jan 24, Tu had barely two hours of sleep.
Worried about her husband's health, Cao decided to leave their 11-year-old son with her parents. On Jan 25, she took four quilts to their van and turned it into the couple's temporary home.
Most days, the couple return to their vehicle at 10 pm and get up at 6:30 am.