Cancer hero takes up mask campaign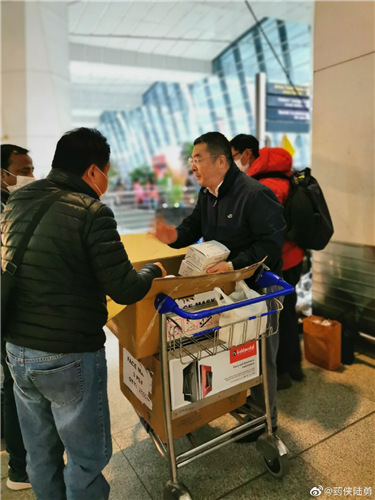 Lu Yong became a folk hero when he helped hundreds of his fellow cancer patients to buy unlicensed drugs from India between 2006 and 2013.
Now, he has another fight on his hands. He has been looking for medical masks during the Spring Festival for doctors and nurses fighting against the novel coronavirus outbreak in Hubei province.
The 51-year-old textile businessman from Wuxi, Jiangsu province, became a household name when he bought the medicine.
In 2014, Lu was detained by police and charged with selling fake drugs, as the ones he bought were not registered with Chinese regulators. Prosecutors eventually withdrew the charges and released Lu in 2015, following petitions from more than 300 leukemia patients.
His story was taken to the big screen. The movie, Dying to Survive, was not only critically acclaimed, but also a box-office success in 2018.
Under the revised Drug Administration Law, which took effect on Dec 1, drugs legally available overseas are now not considered to be fakes.
His journey to India restarted on Jan 29, just hours after he heard that the country was experiencing a severe shortage of masks amid the outbreak of the novel coronavirus.
Arriving at New Delhi airport, the obstacles facing his search for masks in India became all too apparent.
The first thing that Lu learned after getting off the plane was that "Chinese have been buying all the masks in India", according to his suppliers there.
After making every effort and contacting potential suppliers, Lu finally sent back the first batch of 49 boxes of medical supplies-3,000 protective safety goggles and 3,000 N95 masks on Jan 31.
He didn't know then that it was a race against time.
Later that day, India banned exports of all personal protection equipment, including clothing and masks. One day before that, India confirmed its first case of the coronavirus in its southwestern coastal state of Kerala. The patient is a student at Wuhan University in Hubei and has been isolated in hospital.
The virus, which started in Wuhan, Hubei, has infected more than 70,000 people and killed more than 1,700 across China as of Monday, the latest official data shows.
Outside China, the virus has also infected 683 people in 25 countries, with three deaths reported, according to the World Health Organization.
"I am not a hero… Facing the people who died in the crisis, the living ones can only feel guilty, but life has to go on, why can't we be positive? Be positive, make change and progress will be the best way to commemorate the people who passed away," Lu posted on Chinese microblogging platform Sina Weibo.
So facing India's ban, Lu stayed positive. He found surgical masks. He ordered 50,000 and asked for help on Weibo, saying that any Chinese passenger ready to fly back to Kunming, Yunnan province, in the coming days could contact him on WeChat to help him bring some masks back. As a payback, one passenger could get 100 masks.
On Feb 2, a tour group heading back to China helped bring back a small number of the masks. The next day, another Chinese family helped Lu.
On Feb 9, Lu came back to China, with some of the masks he was eventually able to secure for doctors and nurses in need.
"We are with Hubei," Lu says.
One day later, India lifted the ban on the export of all personal protection equipment, including clothing and masks, to China, with certain exceptions. As per the new notification, India can export disposable and surgical masks and gloves. However, a ban on the export of nitrile butadiene rubber gloves and N95 masks remains in place.
Lu's story has gone viral on Weibo with more than 270 million views.
"You are the hero in my heart. Please take care of yourself," Li Xiao, a college teacher in Dalian, Liaoning province, says.
Amid the ongoing shortage of medical supplies in hospitals in China, many Chinese from home and abroad have scrambled to send aid.
"To be honest, no country can support such a sudden demand," Ou Xiaoli, director of the Department of Social Development at the National Development and Reform Commission, said at a news conference on Feb 11.
"Considering total global production capacity, there is a gap between mask supply and demand. In addition to speeding up production and increasing market supply, we also need to improve efficiency of the use of masks and reduce waste," Ou added.
According to the World Health Organization, the world is facing a chronic shortage of gowns, masks, gloves and other protective equipment in the fight against the coronavirus epidemic.
The good news is that the central government is boosting efforts to increase medical supplies to areas hit by the novel coronavirus outbreak, according to Ou.
Some Chinese automobile makers, smartphone assemblers and baby care product producers are starting to churn out medical masks at their revamped factories.