Folk art helps inspire fight against outbreak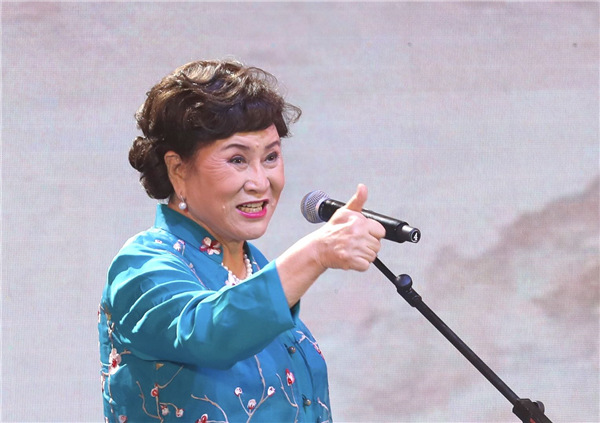 Artist Liu Lanfang is known for bringing Yue Fei, a patriotic military commander of the Southern Song Dynasty (1127-1279), back to life with pingshu, a traditional art form of storytelling.
Since its premiere in 1979 by a radio station in Anshan, Liaoning province, the classic pingshu piece, The Legend of Yue Fei, has become one of the most popular performances among Chinese audiences. Liu has performed the piece at theaters, radio stations and TV stations over the past 40 years.
Now, at 76, Liu, who celebrated her 60-year career anniversary last year, has released a new work online, which tells the story about Zhong Nanshan, a respiratory expert who is leading a government panel of experts to help control the coronavirus epidemic.
Written by Liu and her apprentices, the piece, about 6 minutes long, tells the story of 84-year-old Zhong, who has been working on the front line since the viral outbreak.
"I received a phone call from an audience the other day, who suggested that I tell stories of people working on the front line of the battle to contain the epidemic," says Liu.
"That's exactly what I was thinking about."
"I am a big fan of Zhong. He played a major role in overcoming the 2002-03 SARS outbreak in China and now he is still a hero battling against the novel coronavirus pneumonia. We all trust him."
The traditional Chinese art form of pingshu was born in the Song Dynasty (960-1279) and has been popular mostly in northern China. In 2008, pingshu was inscribed as part of the country's intangible cultural heritage.
In the pingshu tradition, the performer usually recounts a legendary hero from Chinese folk tales or novels, by using different voices and body gestures as well as adding background information and commentary.
Liu collected news reported about Zhong and turned it into oral renditions. Usually the performer wears a traditional gown during his or her performance and sits behind a desk equipped with a folding fan and a wooden block, which is used like a gavel to attract attention. However, since the video was homemade, Liu gave the performance in her study room.
Born in Liaoyang, Liaoning province, Liu was introduced to pingshu by her mother, an artist of Liaoning dagu, a traditional storytelling art form of singing to the accompaniment of drum beating.
Liu learned pingshu at age 13 when few women practiced the art form. It's a demanding profession, which combines writing, acting, commentary and hours of memorization.
At 15, Liu joined in a local folk art troupe of Anshan and received a five-year-long training in pingshu.
"The reason why the old art form is alive today is that the stories told by the performers are captivating, which are not only entertaining but also educating and inspiring," says Liu. "It can be enjoyed everywhere, at home, on radio, or driving."
Liu hasn't slowed down despite her age. She has been dedicated to promoting pingshu among young Chinese and mentoring apprentices.
Since the viral outbreak, she led her apprentices to write stories about people's lives during the difficult times and turned them into pingshu performances, which aims at offering comfort and encouragement to the public.
Pingshu artist Wang Fengchen, 38, also wrote stories about the fight against the outbreak. One of his works, titled Waiting for You, is about the doctors and nurses working in Wuhan, Hubei province, the epicenter of the outbreak.
Since it was released on Jan 31, the work has been played for over 500,000 times on a popular podcast platform, Himalaya FM.
"I enjoyed listening to pingshu as a child because I was fascinated about the heroes' stories told by the performers. Now, we have heroes in our real lives," says Wang, who started to learn the art form in 2006 and gives performances along with other young artists regularly in Beijing.
Pingshu is one type of quyi, or traditional Chinese folk art. According to Li Weijian, president of Beijing Quyi Artists Association, by Feb 13, Chinese quyi artists have created over 100 pieces of works, including xiangsheng (cross-talk), ballad singing and kuaishu (clapper talk), dedicated to people working on the front line of the epidemic.