Cui: China will 'do our best' to fight virus threat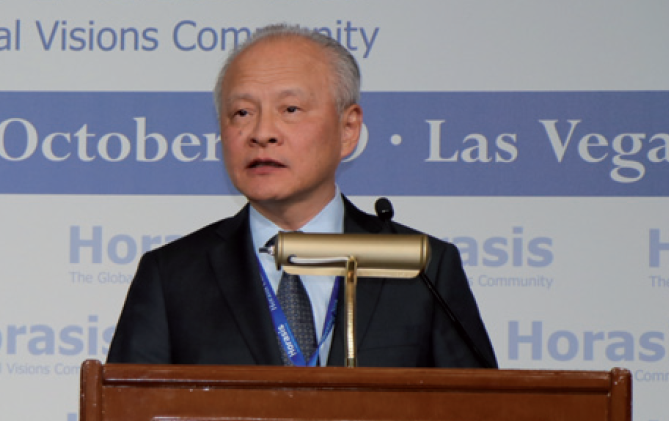 China is doing whatever it can to control the new coronavirus despite the high economic cost, Chinese Ambassador to the US Cui Tiankai said, reassuring the world of China's efforts to fight the outbreak.
"People's well-being, their health, their safety, their life are the most important thing for us. So we'll do our best to protect people's well-being, in a sense, at whatever cost," Cui said Thursday in an interview with NPR's "Morning Edition."
At the same time, people also need economic development and normal social life, so the Chinese government is trying its best to restore normal economic and social activity, said the envoy.
"People's daily necessities have to be provided. And some of the companies and factories have to resume their work after the Lunar New Year holidays and we are looking at when and how schools could be reopened," he said.
Cui admitted that the measures taken come with a high economic cost, including shutting down some major cities, especially Wuhan, a city of 11 million residents, to protect more people.
"We are doing all this, of course, at a high cost. But we are doing this in the larger interests of the entire world. If we fail to stop the virus, it could spread to other countries. Then this would cause an international crisis," said Cui. "So this is, I believe, a real example of one-for-all, all-for-one situation. We are doing this for the world. And we appreciate that the world is helping us."
When asked about the concerns for public unrest in China, Cui said it's "only natural" that some people would be panicking under the circumstances, but the government has always upheld "openness and transparency" as a basic principle.
"We believe openness and transparency will give people more confidence, will give them more awareness about the virus, what are the real risks and how to prevent them," he said.
The "openness and transparency" is reflected in the daily update of the numbers of confirmed cases and deaths, which also will help dispel fake news, rumors or the so-called pseudoscience, he added.
Acknowledging that the epidemic posing an "unprecedented" challenge to China, Cui noted that it's also a big challenge to the entire international community, which calls for an "unprecedented" response.
The World Health Organization (WHO) has already sent an advance team to China, and the organization is sponsoring other expert groups to help contain the virus, according to the envoy.
The US Centers for Disease Control and Prevention has recommended a list of experts to the WHO, and that is under consideration of the Chinese government and the WHO, he said.
"We welcome experts of all countries to come to help us," said Cui, adding that some American experts, including W. Ian Lipkin, an epidemiologist at Columbia University, have visited China on such a mission.
Despite the trade tensions between the US and China, there's a clear need for the world's top two economies to cooperate because it is a challenge to the entire international community, said Cui.
"We are so interconnected, so interdependent. This interdependence has worked in the interests of both countries. Both economies, both peoples have benefited a great deal from such growing economic ties," he explained.
"In the phone call between President Trump and President Xi, they agree that our two countries should really work closely together to combat this virus," he said.
Since the outbreak, people-to-people cooperation between the two countries remains "very effective and very genuine", said the ambassador, adding that he was "so impressed by the goodwill of the American people".
"We appreciate very much the support and assistance given to us by American people, American businesses, American non-governmental institutions and many others," he said.
Cui stressed that the phase one trade agreement is part of the achievement of efforts by both sides to develop a stronger and more stable relationship between China and the US.
"The two sides made genuine efforts to understand the other side, to respect the other side's legitimate needs and concerns, and try to address the issues with a balanced approach and with a good sense of equality. If these principles could be applied in our efforts to address other issues in other areas, we could be equally successful," he said.