Chinese action comedy 'Enter the Fat Dragon' opens in limited theatrical release in US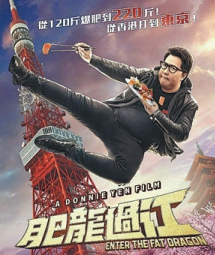 Chinese action comedy "Enter the Fat Dragon" starring martial artist Donnie Yen opened Friday in a limited theatrical release in the United States.
Directed by Kenji Tanigaki and starring Yen in the title role along with Teresa Mo, Niki Chow and Wong Jing, the film follows an overweight Hong Kong police officer Zhu Fu Long who is assigned to the case of escorting a criminal suspect to Japan but the mission goes terribly wrong after the suspect's mysterious death. Zhu must team up with an undercover inspector and wok-wielding restaurant owner to fight against criminal gangs.
"Enter the Fat Dragon" is being released by Well Go USA Entertainment in Cantonese with English and Chinese subtitles in select North American cities including Los Angeles, Boston, New York, San Francisco, Toronto, Vancouver and Ottawa.