Wuhan authorities refute claims of hospital damage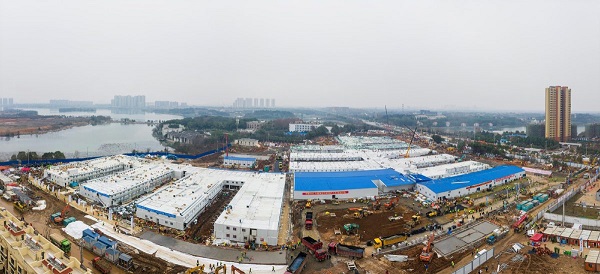 Wuhan authorities refuted online posts claiming Huoshenshan Hospital, the first makeshift hospital built in the Hubei provincial capital of Wuhan to help combat the novel coronavirus outbreak, has been severely damaged in extreme weather, saying it is operating as normal.
As Wuhan, epicenter of the outbreak, is hit by rainy and snowy weather on Friday and Saturday, some online rumors claimed Huoshenshan Hospital has been "blown away" and that severe rain leakage occurred.
Rumors also said some patients from the hospital, which was constructed in only 10 days, have to be transferred to other medical institutes because of the incident.
In a media release on Saturday, the Wuhan construction authority said quite the contrary, that the hospital has been operating normally since it was put into operation on Feb 4.
It also said rain leakage featured in an online video didn't happen in the hospital, but Leishenshan, the second makeshift hospital built in Wuhan for virus control.
"It happened in a zone that has not been transferred for operation," it said, adding workers have been busy repairing the area.
The authority will take intensified measures to enhance the capabilities of the makeshift structures in withstanding extreme weather, it added.