Market update
Share - WeChat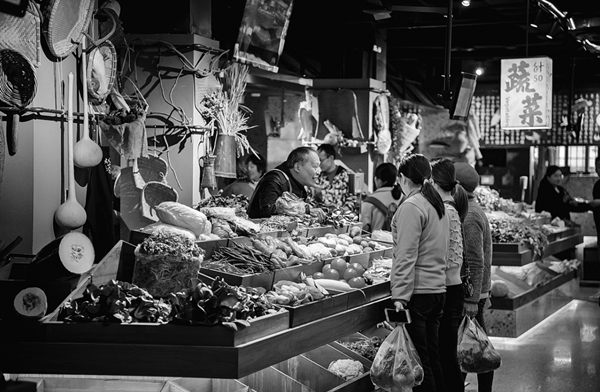 More than just a place to shop for daily necessities, the recently renovated Shuangta Market in Suzhu has introduced new inclusive elements and is set to become a thriving hub.
A large logo with the Chinese characters shuang ta (double towers) on one side of the entrance gate is what first catches the eyes of visitors. The renovated Shuangta Market in Suzhu, Jiangsu province, formerly a traditional farmers' market, reopened to the public on Dec 17 and provides a slice of the unique and faded Jiangnan (south bank of the Yangtze) vibe amid the city's busy traffic and modern skyline.
Back in the day, the Jiangnan region used to be the favored haunt of the Chinese literati. Suzhou, in particular, boasts scenery comprised of elegant, exquisite waters and traditional buildings with their white walls and gray stone tiled roofs. The city government has been trying for many years to balance the conurbation's development on the pillar of its ancient elegance.
Inspired by the ancient Suzhou numerals, also known as Suzhou mazi, a numeral system used in China before the introduction of Hindu numerals, and applied to private notes and accounts, the artistic design of the shuang ta logo, exudes Suzhou's authentic flavor and charm. The word shi ji (market) is engraved in the shape of a red seal, providing a backdrop against which many visitors like to take pictures.
In recent years, traditional farmers' markets across the country, which usually only sell fresh produce, are being transformed to meet China's tougher food sanitary standards and the newly-renovated Shuangta Market covers an area of nearly 2,000 square meters. It not only serves as a hub for purchasing daily necessities, but also as a space that integrates life into art, allowing residents of surrounding neighborhoods to check off items on their grocery list and to while away a pleasant few hours.
The interior decoration of the market has retained many old Suzhou elements, like straw rain capes, rice wine tanks, fish baskets and agricultural tools.