Chinatown leaders say virus no excuse for racism
Share - WeChat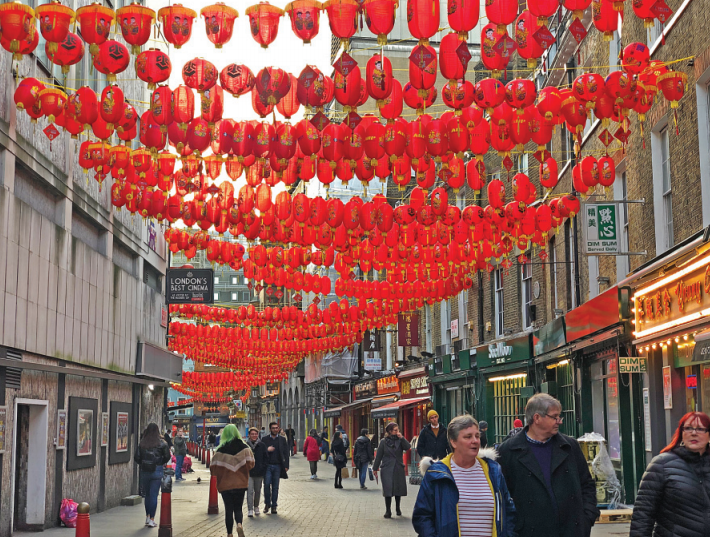 The novel coronavirus should not be weaponized as "an excuse" for some ignorant people to be openly racist, says the spokesperson of London Chinatown Chinese Association. Businesses in Chinatown have experienced a dip, Lawrence Lee confirmed, but he said he is confident it will bounce back.
"It's just a disease that happened in China; it's not Chinese that are carrying the disease," he said, talking about acts of anti-Chinese prejudice. "That is totally two different issues, and the virus should not give ignorant people the excuse to express their racial hatred."
Coronavirus, which was first discovered in the Chinese city of Wuhan, has now spread to 24 other countries, including the United Kingdom, which has resulted in increasing hostility and prejudice directed by some people against those of Chinese heritage.
Deng Hansheng, a lawyer in London's Chinatown, said he was dumbfounded and very uncomfortable when, on his way to work on a crowded London commuter train last week, seats next to him remained unoccupied.
"This is just utterly ridiculous," Deng said. "I have lived in London for decades, and there is as much chance as me having the virus as anyone on the carriage, it is not about my east-Asian appearance."
One Chinese lady, who prefers to remain anonymous, said it is very unpleasant to be traveling on public transport in London as a Chinese. "If you sneeze or blow your nose, people would give you strange and sharp looks," she said. "And as a precaution, I tend to wear a mask in a crowded space, but that incited some unease as well, and people usually would stay away from me, as wearing a mask is equivalent to having the coronavirus."
It is common to see southeast Asian youngsters in Chinatown wearing face masks. They do so to protect the respiratory tract from pollution, and to keep the mask-wearer from getting the infection or preventing the spread of any pathogens they might be carrying.
However, Lee said he noted fewer people wearing face masks during the virus outbreak, because of the fear of unnecessary abuse.
"We are quite used to seeing people wearing masks in the streets of Chinatown for various reasons," he said. "But a lot of Western people might find it odd and see the wearer as potential carrier.
"Then they would get a little bit concerned and sometimes maybe a bit aggressive to whoever is wearing the mask. People these days have learnt from their experience, so they stop wearing masks. As a result, we find less people wearing masks than before the virus outbreak."
This is happening due to lack of knowledge, said Lee, who urges the UK government to educate its people about virus protection measures.
"This won't change unless the UK government is doing something, informing its people that it is actually good for someone who is willing to wear the masks, because it stops people from transmitting diseases. It is mainly a preventive act. This message needs to be getting through to the general public," Lee added.
Prejudice around the virus has also impacted businesses in Chinatown, with some restaurants reporting drops in revenue of 20 to 50 percent, after the UK confirmed its first two cases and the World Health Organization declared the outbreak a Public Health Emergency of International Concern. London's first confirmed case, the ninth in the UK as a whole, was confirmed on Wednesday evening.
Martin Ma, general manager at the Jinli restaurant in London's Chinatown told BBC news that bookings at the restaurant's four branches had halved following the confirmation of the first cases in the UK.
Customers usually have to queue to dine in the restaurant, Ma said, but now they can get a table without any problems.
Ivy Loh, general manager of Imperial China London restaurant, said the premises have experienced one or two group cancellations, and business has been slightly impacted.
"The period after Christmas and Chinese New Year is always relatively quiet, and we have seen our revenue dropping about 20 percent. Compared with other restaurants, our business is not hugely hit, probably because we have more mixed clientele and regular customers," Loh added.
In light of the current situation, Lee said, many Chinatown businesses have stepped up hygiene efforts and precaution measures.
"Restaurants have imposed self-quarantine of 14 days for its staff who have been abroad, especially in southeast Asia, and they have increased the placement of antiseptic liquid in their premises and provide a thermometer to test temperature," he pointed out.
"I do not think there is any fear to come to Chinatown." Lee said. "Chinatown after all is the place to eat for Chinese families and Chinese students. They might stay away for a week or two, but they will eventually come back. Also Chinese are very tolerant, if everything appears to be normal, they will be flooding back in."