Opportunistic racists find a golden opportunity within the outbreak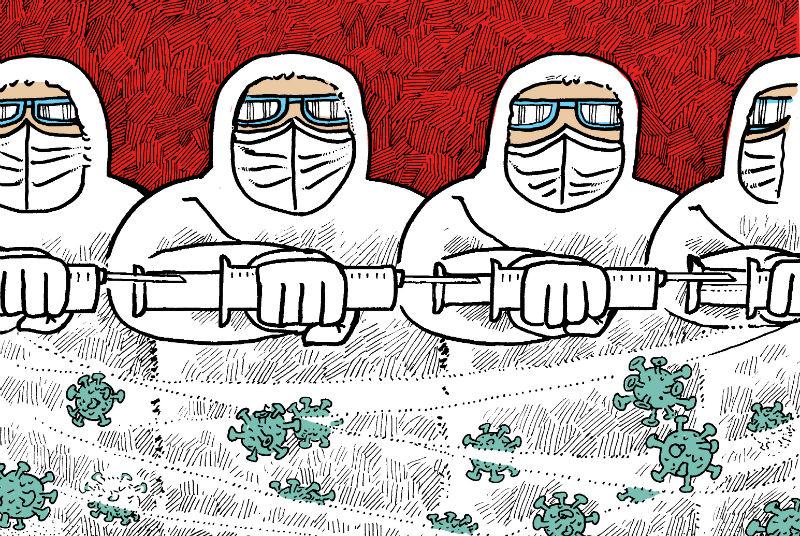 When a 60-year-old man collapsed outside a popular Thai restaurant near Sydney Chinatown on Tuesday last week, no resuscitation attempts were made.
He had died of apparent cardiac arrest, but there were fears he was infected with novel coronavirus, which kept bystanders from responding, a local tabloid reported.
The story likened the lack of help to videos and pictures that emerged showing Chinese citizens allegedly collapsing in the street due to the virus.
On the same day, AFP Indonesia fact checked a picture depicting a similar incident. The report found the image was from a 2014 art project in Frankfurt, portraying victims of the Nazi's Katzbac concentration camp.
As of Friday, there were 15 confirmed cases of novel coronavirus in Australia, five recoveries and one unassociated death.
The man who died was not a victim of the virus but rather one of Sinophobic behavior and fears that have spread in recent weeks, it seems.
Since the outbreak of the novel coronavirus was first reported, fake news has traveled much further than the virus, and its aftermath is proving harmful.
In Australia, it has spread in the form of fake press releases issued by nonexistent government departments. These have targeted areas with large Chinese populations and restaurants, prompting responses from government health departments and politicians.
Chinese-owned businesses are feeling the effects, and some, mostly restaurants, have decided to shut to cover financial loss, while others operate with minimum staff as some employees are scared of returning amid the outbreak.
Unfortunately, it doesn't stop at fake news or reduced business. For 25-year-old Chinese-Australian journalist and writer Yen-Rong Wong, as she wrote on Twitter, "This is the first time I've ever felt physically unsafe in Australia because of my race. I thought we were over this … but obviously not."
Wong isn't alone. Chinese citizens and people of Chinese descent around the world have reported increased hostility, accounts of discrimination, racism and xenophobic behavior in the last few weeks amid the outbreak.
Meanwhile at home in Hong Kong, Tammy Ho Lai-Ming, editor of Asian Cha Journal, tweeted, "I can understand people's frustration about the current #coronavirus situation (I'm frustrated & worried) but this portrayal of mainlanders as zombie-like is offensive & unnecessary. Can we resist the urge to generalize & stigmatize a whole nation of people?"
The director of the Australia-China Relations Institute James Laurenceson, who has seen increased hostility towards Chinese Australians as China's influence in Australia continues to grow, said, "these reports are not a one-off anecdote".
In times of crisis, amid fear and panic, a lack of leadership and questionable quarantining of Australians who were in Wuhan hasn't helped, he said.
On Monday, a plane carrying 243 Australians fleeing Wuhan arrived on Christmas island, the home of Australia's off-shore detention centers. On Thursday, 35 more Australians joined them.
On this decision, Laurenceson noted, "I don't think they're racist in their policy response, but I haven't seen another country do the same thing to their own."
In a time where people of Chinese ancestry around the world are feeling discriminated against, treated like outsiders and blamed for a virus, leadership is important, as is calling out baseless xenophobic behavior.
Instead, the job is being left to journalists, academics and institute directors like Laurenceson in the form of opinion editorials, as well as international students like Katie, a former Wisconsin and Hong Kong student, who asked only to be referred to her first name.
A Facebook post she wrote on Jan 30 detailing live updates on the virus and information from her experience from Henan province in China has been shared 289 times, liked by almost 500 people and received 86 comments.
Katie said she felt compelled to share information after seeing several memes make light of the virus and comments blaming Chinese people and some saying it "is deserved".
"Some people are using their personal feelings about the Chinese government to respond to the virus outbreak, which is irrational, rude and disrespectful," she said.
She noted there are thousands of people across China, like her father, who instead of spending Chinese New Year with his family are on call working long hours in factories to produce medical supplies and contain the virus or treat victims.
"I have friends who are doctors and who are fighting on the front line right now," she said.
Chinese-Australian architect Shuwei Zhang, a former Queensland resident, was stuck in Guangzhou until Saturday and said people aren't simply paranoid about the virus, but are being taken away and confined with potentially infected victims.
"I think being inside is affecting people because they read everything on the internet, which essentially drives them to hysteria," he said.
Laurenceson concedes there's a lot of "insensitivity towards people who are in an extraordinarily difficult situation through no fault of their own".
"At the moment it seems clear that the greatest danger in Australia isn't from the spread of the virus—it's from behaviour driven by fear, not facts," he said.
The author is an Australia-based freelance writer.
The views don't necessarily represent those of China Daily.
Most Viewed in 24 Hours
China Views