Five cases of novel coronavirus in the US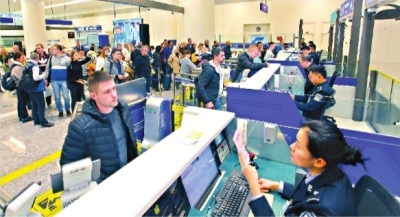 US officials have confirmed a new case of the coronavirus in Arizona. This brings the total to five cases so far.
Two people in California have tested positive for the novel coronavirus, marking four confirmed cases in the United States from the virus that has killed more than 50 people in China
The Los Angeles County Department of Public Health confirmed the first case of the virus in the county on Sunday. Neighboring Orange County Health Care Agency's Communicable Disease Control Division said on Saturday that an individual was diagnosed with the virus there.
The Los Angeles County and Orange County individuals, who were not identified, had both recently returned to the United States after traveling in Wuhan, China, the epicenter of the illness, authorities said. Both were in isolation at undisclosed hospitals, officials said.
"The current risk of local transmission remains low," the agency said in a statement. "There is no evidence that person-to-person transmission has occurred in Orange County," officials said.
The Los Angeles health department said "there is no immediate threat to the general public''.
The other cases of the virus in the US involve a woman in her 60s in Chicago and a man in his 30s in Washington State. The Illinois woman had not been sick while traveling from Wuhan to the US on Jan13, said Dr Jennifer Layden, an epidemiologist with the Illinois Department of Health.
On Sunday, Senator Chuck Schumer of New York urged the Trump administration to declare a formal public health emergency.
He asked Health and Human Services Secretary Alex Azar to declare a public health emergency in order to free up money for the CDC to battle the virus before it becomes an American pandemic.
The money is already appropriated and in the Infectious Disease Rapid Response Reserve Fund, he said, and the CDC will have full discretion to use the money for epidemiological endeavors, screening, public awareness, staffing and educating local and state officials.
"The more we can do to be proactive, the better off the public will be," Schumer said during a news conference.
The World Health Organization last week declined to categorize the novel coronavirus as a global health emergency, and lauded China for its efforts to contain the virus.
Besides Canada and the United States, health officials in France, Australia, Japan, Malaysia, Nepal, Singapore, Thailand, Vietnam and South Korea have confirmed cases of novel coronavirus.
Chinese authorities have locked down Wuhan and at least two cities in an to contain the virus during the busy Lunar New Year travel period. The US closed its consulate in Wuhan and was pulling out its diploma
Novel coronaviruses are transmitted by animals and people, and the Wuhan strain has been linked to a market in the city that was selling seafood and live animals, including wild species. The Chinese government announced Sunday that it's banning all sales of wild animals.