Full steam ahead for Kenyan railway
Share - WeChat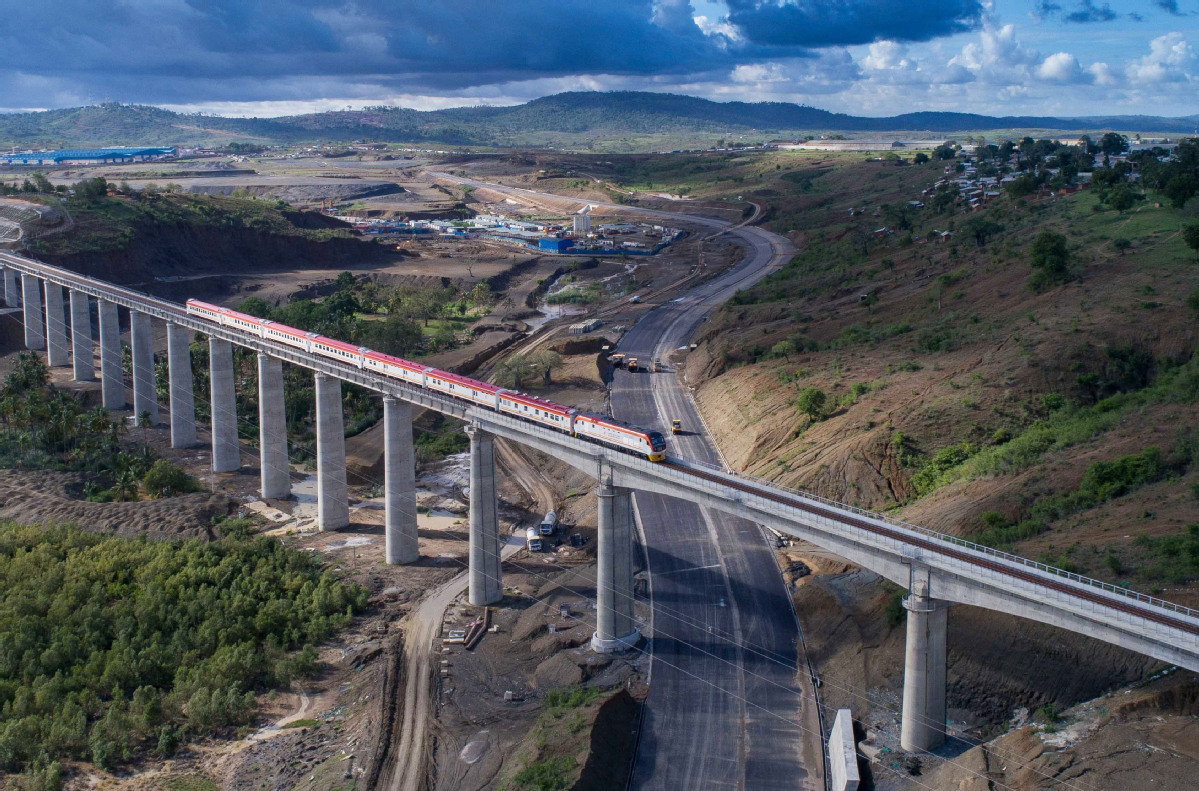 Profits soar 135% on showpiece line built with Chinese backing to serve East Africa
The Chinese-built railway linking the Kenyan capital Nairobi with Mombasa and Naivasha saw profits surge 135 percent for the first nine months of 2019.
The earnings of $88 million for the period dwarfed the $37 million recorded for the corresponding period in 2018, driven overwhelmingly by rising cargo volumes, the Kenya National Bureau of Statistics reported.
Profits from freight on the Mombasa-Nairobi-Naivasha Standard Gauge Railway, or SGR, soared to $75 million for the nine months, from the $26 million booked for the year-earlier period, the bureau's report shows.
In contrast, earnings from passenger services edged up to $13 million, from the $11 million recorded for the first nine months of 2018.
Gilbert Lagat, an official with the Shippers Council of Eastern Africa, said the SGR is a game-changer in Kenya's transport and logistics sector because it has made it not only convenient but cheap to move goods to and from Kenya's main port in Mombasa.
"The SGR offers a fast mode of transport at cheaper rates with assured security and that is why it is attracting many importers and exporters who want their cargo to be delivered on time," Lagat said.
The showpiece railway was built with financing of $3.6 billion from China Export-Import Bank in May 2014 and construction was done by China Communications Construction Company, also known as CCCC.
Cargo service
Jason Reynard, the chief executive for East Africa operations of Paris-headquartered Bollore Transport and Logistics Group, said the SGR has reduced the amount of cargo being moved by road.
This trend meant the company would restructure its operations by shifting its sea freight import functions from Mombasa to Nairobi. Such a change would ensure the company's survival in the new operating environment, he said.
"The diversification of the business will ensure we can survive during periods of disruption," Reynard said. "The Kenya business plays an important role in our regional and global operations and our Nairobi office will continue to host our East Africa headquarters."
Transport routes in Kenya serve most of the landlocked countries in East Africa. With the new railway, container traffic has grown exponentially. The Inland Container Depot, or ICD, in Nairobi handled up to seven cargo trains a day in 2019, from just one when the SGR freight service was launched in December 2017.
Construction of a 45,000-square-meter ICD in the town of Naivasha is nearing completion. The project, financed by the Chinese government, is being built by the China Roads and Bridges Company, an entity affiliated with CCCC.
With a loading capacity of 2 million tons a year, the ICD is expected to further boost East Africa's freight services, with improved routes to Uganda, Rwanda and other countries in the region.
Otiato Opali in Nairobi, Kenya, contributed to this story.