Keynote speech by H.E. Ambassador Liu Xiaoming at the 'Icebreakers' 2020 Chinese New Year Dinner: Seize Opportunities for Cooperation and Achieve Greater Breakthroughs
Share - WeChat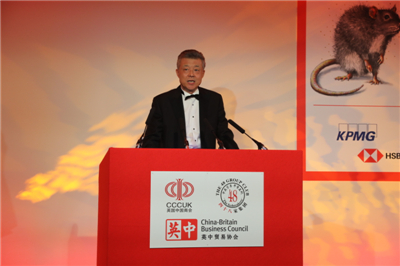 Chairman Stephen Perry,
Chairman Fang Wenjian,
Sir Sherard,
Secretary Glen,
My Lords and MPs,
Ladies and Gentlemen,
Dear Friends:
Good evening!
It is a real delight to join you at the "Icebreakers" Chinese New Year Dinner hosted by the 48 Group Club, CCCUK and CBBC. that I have attended. And for the tenth time, I would like to share with you the meaning of the zodiac animal of the year.
The year 2020 is the Year of the Rat. It is the third time that the 48 Group Club celebrates the Year of the Rat. In Chinese culture, rat is the first of the twelve zodiac animals. Legend says that in a race of all zodiac animals, the rat came first by riding on the back of an ox. So, this is rat -- shrewd, clever and good at seizing opportunities.
I hope and believe that the Year of the Rat will be a year of opportunities and breakthroughs.
The year 2019 is an important year for China. In this year, we built on past achievements and achieved new success. We celebrated the 70th anniversary of the founding of New China, and embarked on a new journey in the new era with persistent efforts.
For China-UK relations, the year 2019 is also important. It was the 65th anniversary of China-UK diplomatic relationship at the chargé d'affaires level. Our two countries drew lessons from the extraordinary journey of the past 65 years and made plans for the future. In particular, we have taken China-UK business cooperation to a new stage by seizing three opportunities.
First, we seized the opportunity of open cooperation to achieve new leaps in China-UK financial cooperation.
The financial sector saw increasingly close partnership between the businesses of our two countries and became the most vigorous, fruitful and influential part of China-UK cooperation.
Vice Premier Hu Chunhua visited the UK and hosted the tenth China-UK Economic and Financial Dialogue, which took China-UK financial cooperation to a new level.
The Shanghai-London Stock Connect was launched, the first-ever link between the Chinese and a foreign capital markets.
London became the world's second largest offshore clearing centre and the largest offshore trading centre of the Chinese currency, RMB, achieving a total clearing volume of 40 trillion RMB yuan.
Shanghai Pudong Development Bank, Agricultural Bank of China and China CITIC Bank opened branches in the UK; ICBC issued pound-denominated bonds, the first-ever by a Chinese bank; And Ant Financial purchased Worldfirst, a UK-based cross border payments group.
At the same time, British financial institutions further expanded their business in China. Heng An Standard Life set up the first-ever foreign owned pension insurance business in China.
FinTech, inclusive finance and green finance have become new growth points for China-UK financial cooperation.