PLA Hong Kong Garrison pays tribute to HK compatriots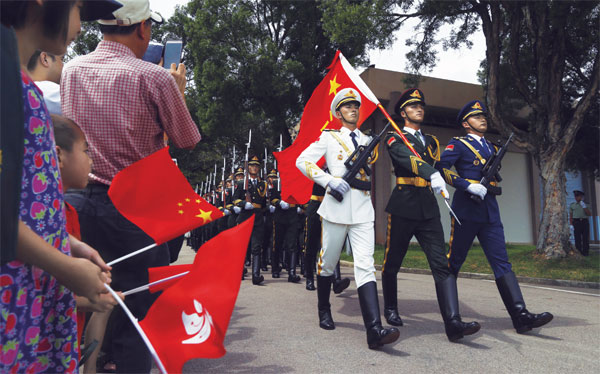 The People's Liberation Army Hong Kong Garrison on Tuesday paid tribute to local compatriots who have safeguarded the rule of law and the "one country, two systems" principle in Hong Kong — lauding their contribution to Hong Kong's prosperity and stability.
In a congratulatory letter to Hong Kong residents, Commander of the PLA Hong Kong Garrison Chen Daoxiang and Political Commissar Cai Yongzhong wished the people of Hong Kong a joyful Lunar New Year and a happy family.
"We look forward to and believe that in the new year, our compatriots in Hong Kong will cherish the city and build it together, making the 'Pearl of the Orient' more prosperous and harmonious," the two major generals said.
In the coming new year, the garrison will continue to perform its duty in strict accordance with the Basic Law and the Garrison Law, the letter said. The Hong Kong Garrison is determined to safeguard China's sovereignty, security and development interests and to ensure Hong Kong's long-term stability as well as prosperity, the letter added.
The garrison will also continue to firmly support the chief executive in leading the Hong Kong SAR government to govern in accordance with the law, the Hong Kong police in strictly enforcing the law, and all people who love China and the HKSAR.
Over the past few months, the situation in Hong Kong has touched the hearts of the Chinese people and remains a deep concern of the Central Committee of the Communist Party of China as well as President Xi Jinping.
Chief Executive Carrie Lam Cheng Yuet-ngor has led the HKSAR government in facing up to the difficulties, resolutely implemented the principle of "one country, two systems" and actively responded to social concerns, the generals said. The Hong Kong government has taken comprehensive measures and made unremitting efforts to maintain social stability and improve people's livelihoods, they added.
The generals also praised the Hong Kong Police Force for strictly enforcing the law, stopping violence and ending the chaos, and safeguarding the peaceful lives of Hong Kong people. Meanwhile, peaceful and rational citizens also remained committed to their posts, safeguarding the rule of law and helping maintain public order.