Tech guru turns spotlight on accessibility
Share - WeChat After 11 years of running his own business in the field of technology, 45-year-old entrepreneur Cao Jun has complex feelings about being a role model to the visually impaired.
Among the many blind people he knows, few are doing business other than in the field of massage. The few who tried to branch out unfortunately failed with their small businesses or startups and returned to the massage industry.
"Do you consider yourself a role model?"
"Actually, yes! I think I've done a great job, because my company has managed to survive since 2008," Cao said during the tech conference GeekPark IF X, which was held in Beijing from Dec 20 to 22.
He tried to persuade some visually impaired friends to challenge themselves in a new career, even if it was running an online retail store, but it was hard to make a stable profit. The average level of education in the group is quite low, which adds to the risk.
"Just registering the company and handling all the accounting and tax issues is enough to hold us back," he says.
Cao used to be a successful masseur who owned a chain of eight massage salons. It was a typical inspirational story back then, but that was not enough for him.
In 2008, after learning that his clients were using smartphones to surf the internet and chat using instant messaging apps like QQ, he closed his massage business and started a software company.
His aim was to enable the visually impaired to use the same apps and technology as everybody else.
His company has developed screen-reader apps on both Android-based phones and computers to help blind people gain access to frequently used car-hailing, take-away, payment and reading apps, among others.
They also developed a smart cash register system which has been applied at around 7,000 massage therapy centers around the country to remove barriers for their blind employees to identifying notes of different denominations.
Before this new technology changed their lifestyles, many visually impaired people were virtually trapped at home-it was difficult for them to get out and about, let alone keep up with the latest news and developments.
Despite having their own social circles, visually impaired people lead somewhat scattered lives, and it's difficult for people to reach and help them with the smaller, more detailed problems in life that public resources often barely cover.
From Cao's perspective, improving accessibility doesn't necessarily mean developing special applications for the disabled. Sometimes it just requires small modifications like adding text tags to the code of app icons and virtual buttons to make them readable by screen-readers.
So far, there are no domestic laws or regulations specifically tailored to information accessibility.
The Internet Society of China issued a design code for accessibility for web-based information in 2018, largely based on the World Wide Web Consortium's Web Content Accessibility Guidelines 2.0 and the 2012 national standard for accessibility in web design. The guidelines are as yet not legally binding, however.
Data from the China Association of the Blind shows that the country has 17.31 million people who are visually impaired.
These people, and those with cognitive impairment, are very likely to meet obstacles in accessing information. In fact, an earlier report from news site jiemian.com points out that anyone could benefit from building an information environment through accessibility.
"The versatility and convenience of products will be enhanced when tech companies optimize them with fully-accessible functions. It will also broaden their user groups," says Zhang Kun, a leading expert at the Shenzhen-based Accessibility Research Association, in a video promoting the concept of web accessibility on the group's website.
"Many people think information accessibility is a public welfare issue, but for us, it's all about equality-everyone has the same right to acquire information," he says.
A large part of Cao's work over the past decade has been aimed at convincing technology companies like Tencent, Alibaba, Baidu and Didi to optimize their code and settings, to provide an interface-or adopt the latest image recognition technology-to assist visually impaired users to gain access to more non-visual information.
In 2019, the association signed up to a tie-in with Huawei, where newly released smartphones produced by the tech giant come with their screen-reading application already installed.
However, the rapid turnover of employees and product offerings of tech companies adds to the uncertainty of the process, Cao says.
In 2007, when smartphone maker Motorola launched a program to develop a type of phone made especially for blind people in China, Cao contributed to the design.
As one of them, he knows very well how blind people operate smartphones, understanding their needs and the logic behind their gestures as they use the device. He later played the role as an agent and sold around 20,000 phones.
It was during this period that he sniffed a fresh opportunity in the field of related technology, which finally led to him setting up his current business.
The enterprise has, however, been hit by controversy because their screen-reading app for smartphones is not being offered for free-people often take it for granted that things related to the disabled are simply for public welfare and should therefore be noncommercial.
"The problem is, we need to pay for our programmers' salaries and the marketing costs. We also need staff to teach our customers-especially those living in rural areas-how to use the app, as well as providing customized after-sale services. All these things cost money," Cao explains, acknowledging that it might be difficult for his customers to initially accept a product that costs over 200 yuan ($29).
A survey conducted by the company suggests visually impaired people in Beijing earn less than 3,000 yuan a month on average, according to Cao.
In the grand scheme of things, it's hard to accomplish an undertaking for the disabled without sustainable, self-perpetuating organizations. Cao has witnessed the failure of his peers and the disappearance of other social enterprises along the way.
"As long as you are providing services that are able to change the lifestyles of a certain disadvantaged group, and create job opportunities for them, it's entirely rational to have a sustainable revenue stream," Cao says.
As an enterprise that is supported by the Beijing Disabled Persons' Federation, Cao's company-Baoyi Interactive Technology Development Co-enjoys rent exemption and reduced tax.
He says their annual profits have grown at a rate of about 20 percent since 2013. The majority of their revenue is driven by the efforts of the government and charity groups. Only 35 percent of their income is driven by retail sales.
The company is now putting a lot of effort into software that supports smart home appliances, mainly based on the products developed by electronics giant Xiaomi.
More than 25 of the company's 43 employees are visually impaired or completely blind, including the programmers and testers. They mainly write in JavaScript and devote their time to developing mini programs on WeChat and other support tools like audio clocks.
However, it can take the visually impaired more than a week to finish a workload that sighted programmers-by far the majority in the coding industry-would normally complete in a day.
The company also employs visually impaired customer service agents in phone support. Cao regards the levels of concentration and the ability to express themselves that blind employees possess as a distinct advantage.
Nevertheless, a story from GQ Report, a WeChat public account run by GQ China, says the salary for these positions consist of a basic monthly wage of around 3,000 yuan before sales commissions.
Cao confirms that sighted employees generally earn more, and the difference in their basic salaries derive from the divergence between the job market of sighted people and the disabled.
But he remains doubtful whether there is any difference in their ability to sell products.
Furthermore, the report illustrates a diverse range of attitudes toward being a customer service agent at Cao's company.
Xiao Wen (a pseudonym), a well-educated visually impaired woman, is not satisfied with her salary and complains that her job is repetitive and unchallenging, while Zheng Ting, a worker from rural Hubei province who has to commute 4 hours every day, regards her job as well-paid.
"I have finally moved on from massage, which I have been doing for 10 years," Zheng says.
In Cao's opinion, blind people can manage both routine jobs such as that of a salesperson or customer service agent, as well as emerging jobs, like a webcast anchor or a new media copywriter or editor.
"I would encourage visually impaired people to start their own businesses, but remind them that they have to work out a business plan in a formalized, systematic way," he says.
As the deputy-director of the Beijing Association of the Blind, Cao calls for better educational opportunities and a more inclusive environment for the disabled.
Speaking of his ultimate goal, Cao says: "We just want equal opportunities and a better chance to integrate into society."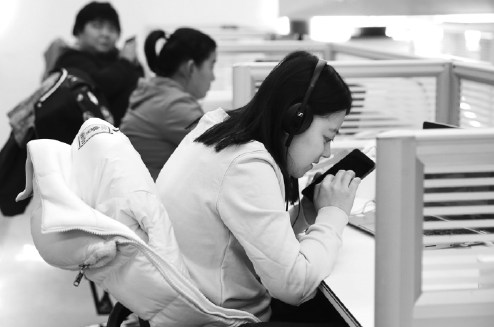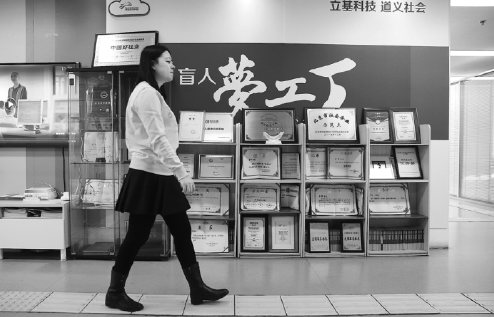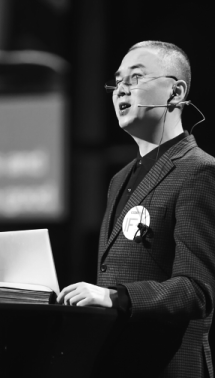 Today's Top News
Editor's picks
Most Viewed