Statue of Belarusian poet unveiled at Beijing university campus
Share - WeChat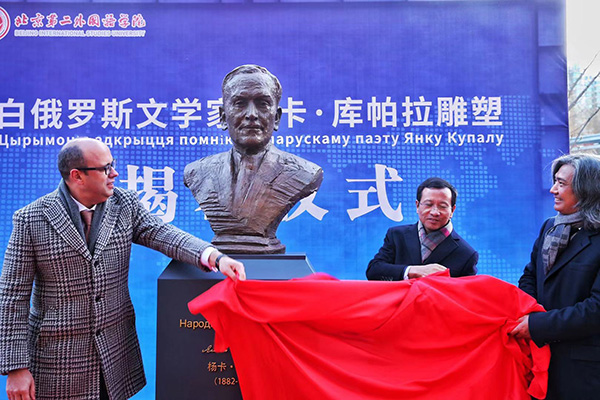 Yanka Kupala (1882-1942), the pen name of Ivan Daminikavich Lutsevich, is a household poet and writer who contributed significantly to literature and theater in his native country of Belarus.
Kupala's works have been translated into different languages, including the Chinese.
A bronze bust of Kupala, created by Wu Weishan director of the National Art Museum of China and a sculptor, was unveiled at the campus of Beijing International Studies University on Wednesday and is on permanent display at the school's "alumni forest", in a gesture to celebrate the 2019 Year of Education between China and Belarus.
Another copy of the bust will later be transported to Belarus and shown at the School of Yanka Kupala in Vitebsk Region.
"With social concerns, Kupala documented in his works the realities, hailed his motherland and awakened his people's national awareness," Wu said. "His integrity trespassed the bounds of time and space to empower us. Standing in front of his statue, we anticipate a common future of the humankind."
Beijing International Studies University has a Belarusian research center and, according to the principal Ji Jinbiao, the center has begun the translation of Kupala's work and will introduce more Belarusian literature to Chinese readers.
Most Popular