Tech guru turns spotlight on accessibility
Share - WeChat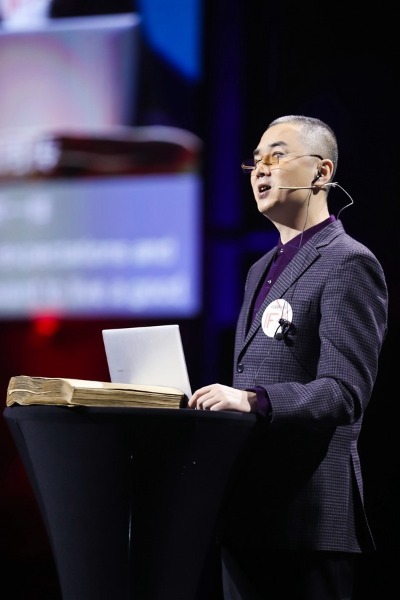 Blind entrepreneur breaks mold with screen-reader apps for the visually impaired, Fang Aiqing reports.
After 11 years of running his own business in the field of technology, 45-year-old entrepreneur Cao Jun has complex feelings about being a role model to the visually impaired.
Among the many blind people he knows, few are doing business other than in the field of massage. The few who tried to branch out unfortunately failed with their small businesses or startups and returned to the massage industry.
"Do you consider yourself a role model?"
"Actually, yes! I think I've done a great job, because my company has managed to survive since 2008," Cao said during the tech conference GeekPark IF X, which was held in Beijing from Dec 20 to 22.
He tried to persuade some visually impaired friends to challenge themselves in a new career, even if it was running an online retail store, but it was hard to make a stable profit. The average level of education in the group is quite low, which adds to the risk.
"Just registering the company and handling all the accounting and tax issues is enough to hold us back," he says.
Cao used to be a successful masseur who owned a chain of eight massage salons. It was a typical inspirational story back then, but that was not enough for him.
In 2008, after learning that his clients were using smartphones to surf the internet and chat using instant messaging apps like QQ, he closed his massage business and started a software company.
His aim was to enable the visually impaired to use the same apps and technology as everybody else.
His company has developed screen-reader apps on both Android-based phones and computers to help blind people gain access to frequently used car-hailing, take-away, payment and reading apps, among others.
They also developed a smart cash register system which has been applied at around 7,000 massage therapy centers around the country to remove barriers for their blind employees to identifying notes of different denominations.
Before this new technology changed their lifestyles, many visually impaired people were virtually trapped at home-it was difficult for them to get out and about, let alone keep up with the latest news and developments.
Despite having their own social circles, visually impaired people lead somewhat scattered lives, and it's difficult for people to reach and help them with the smaller, more detailed problems in life that public resources often barely cover.
From Cao's perspective, improving accessibility doesn't necessarily mean developing special applications for the disabled. Sometimes it just requires small modifications like adding text tags to the code of app icons and virtual buttons to make them readable by screen-readers.
So far, there are no domestic laws or regulations specifically tailored to information accessibility.
The Internet Society of China issued a design code for accessibility for web-based information in 2018, largely based on the World Wide Web Consortium's Web Content Accessibility Guidelines 2.0 and the 2012 national standard for accessibility in web design. The guidelines are as yet not legally binding, however.
Most Popular