FAST telescope begins operations in Guizhou
Share - WeChat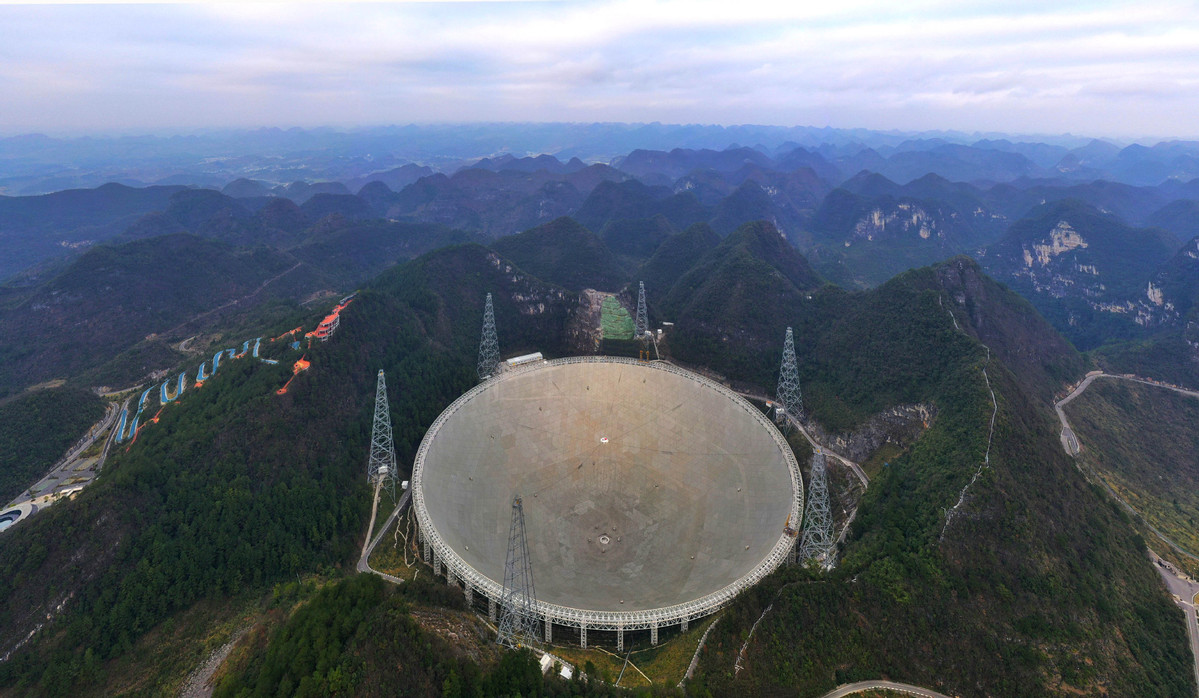 China's Five-hundred-meter Aperture Spherical Radio Telescope, the world's largest single-dish radio telescope, passed national evaluation on Saturday and has officially begun operations.
The state evaluation committee said the FAST project has achieved a number of innovations, significantly improved China's research ability in radioastronomy, promoted innovation of related technologies and produced large social and economic benefits.
"The comprehensive performance of FAST has reached a top level internationally, which is of great significance to promote major astronomical breakthroughs in China," the committee noted.
The idea of building the world's largest single-dish radio telescope was first put forward in the 1990s by a group of astronomers including Nan Rendong, FAST's chief scientist.
Located in Guizhou province, the project was approved by the central government in 2007. Construction kicked off in 2011 and finished in 2016.
After overcoming difficulties such as the telescope's large scale and ultra-high precision, the team put the facility in the testing phase in 2016. It passed an assessment by expert panels last year and opened for research applications to domestic astronomers.
According to the Chinese Academy of Sciences, the project operator, since FAST entered its testing period the facility has been operating stably and its sensitivity is 2.5 times that of the world's second-largest single-dish radio telescope.
It has already helped scientists obtain a number of valuable data, including the discovery of 146 pulsars and confirmation of 102. It has also detected the Milky Way's interstellar magnetic field through a novel method.
In the next three to five years, the highly sensitive telescope will likely lead to breakthroughs in frontier studies such as low-frequency gravitational waves, fast radio bursts and interstellar molecules, said Yan Jun, director of National Astronomical Observatories, a subsidiary of CAS.
The observatory will further organize experts at home and abroad to study how to use the excellent performance of the FAST to promote better scientific outputs.
"FAST uses a completely new design concept and creates a new model for building giant telescopes by taking advantage of the karst landform in Guizhou province," said Bai Chunli, president of CAS. "As the largest single-dish radio telescope in the world, it has achieved a number of innovations, significantly improving China's technology level and independent innovation capabilities in related fields."