Socialist to lead new Spain coalition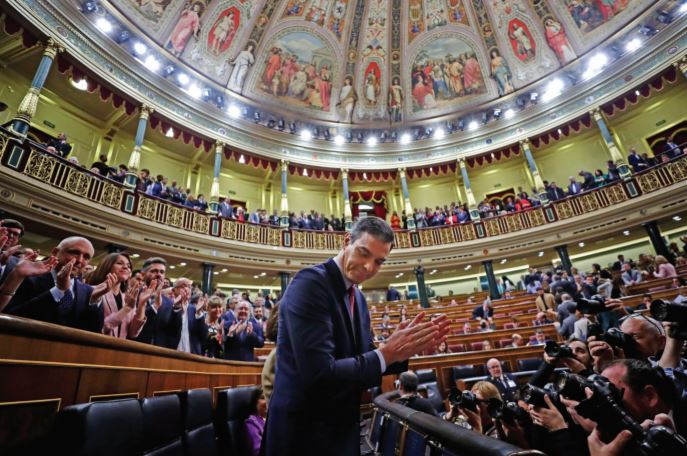 Pedro Sanchez, Spain's socialist leader and acting prime minister, narrowly won a confidence vote in Parliament, paving the way for him to govern with an anti-austerity coalition government that critics say threatens national unity.
Abstentions by Catalan and Basque MPs were crucial to the outcome, as Sanchez was chosen by the slimmest margin of 167 in favor versus 165 against, after losing an initial vote on Sunday.
It was the narrowest victory for a prime minister since Spain returned to democracy after the death of Francisco Franco in 1975.
Sanchez will form a minority government after the vote, with his Spanish Socialist Workers' Party, which finished first in both elections last year but short of a majority, agreeing a governing pact with the far-left populist party, Unidas Podemos.
Reuters reports that the vote ends the nine months of political deadlock resulting from two inconclusive general elections last year. The main measures agreed between the allies focus on tax hikes for high-earners and big companies, it said.
Others are believed to include a rise in the minimum wage, labor reform, deficit and debt reduction, and the prohibition of prostitution.
Sanchez had said such a coalition was "the only option" for Spain, after five elections in recent years. "Either a progressive coalition, or more deadlock for Spain", he warned them before the vote, saying he wanted to free Spanish politics of its "toxic atmosphere".
He said dialogue was necessary to "overcome the territorial disputes, always in line with the constitution". In a social media post on Tuesday, he said his would be a "government for all that expands rights, restores coexistence and defends social justice". "Today, a time of moderation, progress and hope is born," he added.
However, The Times reports that pundits are already expecting further unrest in the country, predicting that the coalition will threaten Spain's unity and ultimately fuel right-wing nationalism.
Before the vote, opposition center-right People's Party leader Pablo Casado accused Sanchez of acting as an "extremist"-not a moderate-by allying himself with the far-left and the Basque and Catalan nationalists, without explaining that to the Spanish people.
"You lied and this stigma accompanies the government at its birth," he said. Casado called Sanchez a "sociopath" and accused him of forming a "Frankenstein government" made up of "communists" and "separatists" who "want to put an end to Spain".
The Catalan separatists' drive for independence overshadows Spanish politics, with the conservative and far-right opposition parties bitterly opposed to it, reports the BBC.
It said that the Socialist Workers' oppose granting Catalans a legal independence referendum, while recognizing that both Catalonia and the Basque Country are nations within Spain, and not just regions. It adds that the Catalans and Basques already have a large degree of autonomy.