US defense chief: Iran cultural sites not target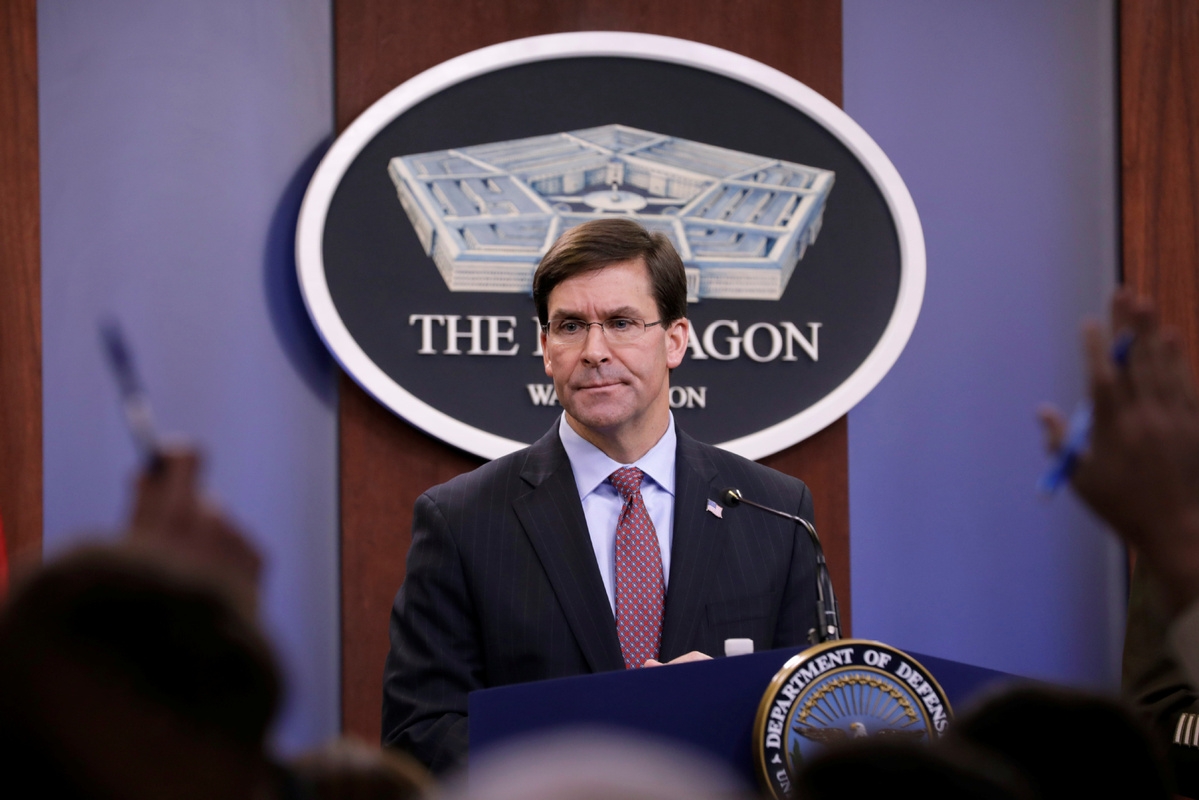 The US secretary of defense suggested on Monday that the United States military would not strike Iranian cultural sites, a threat made by President Donald Trump over the weekend, as the United Nations' cultural agency noted that both countries have ratified treaties protecting such places.
Asked whether he was willing to target cultural sites, US Defense Secretary Mark Esper told reporters at the Pentagon: "We will follow the laws of armed conflict."
Pressed on whether he would not target such sites, because that would be considered a war crime, Esper said: "That's the laws of armed conflict." He did not elaborate.
Esper's public comments seemed to confirm an early report that two senior US officials described "widespread opposition" within the administration to targeting cultural sites in Iran.
"Nothing rallies people like the deliberate destruction of beloved cultural sites," CNN quoted one senior US official as saying in a report on Sunday.
"As a matter of principle, we as a nation and as a military do not attack the culture sites of any adversary," it cited another official as saying in the same report. Both officials have not been identified.
Prior to the defense secretary's remarks, Colin Kahl, former deputy assistant to president Barack Obama, had said the Pentagon may not include Iranian cultural sites as target options.
"For what it's worth, I find it hard to believe the Pentagon would provide Trump targeting options that include Iranian cultural sites," he tweeted on Saturday. "Trump may not care about the laws of war, but DoD planners and lawyers do ... and targeting cultural sites is a war crime."
Trump tweeted Saturday night that sites "important to Iran & the Iranian culture" were on a list of 52 potential US targets if Iran hit back following the US' targeted killing of Iranian military commander Qassem Soleimani a day earlier.
He reiterated the view on his return from a break in Florida on Sunday, when he told reporters: "They're allowed to kill our people, they're allowed to torture and maim our people, they're allowed to use roadside bombs and blow up our people and we're not allowed to touch their cultural site? It doesn't work that way."
Iran is home to two dozen United Nations Educational, Scientific and Cultural Organization (UNESCO) World Heritage Sites.
On Monday, UNESCO's Director-General Audrey Azoulay said both the US and Iran had ratified the 1954 Convention for the Protection of Cultural Property in the Event of Armed Conflict and the 1972 Convention Concerning the Protection of the World Cultural and Natural Heritage.
Azoulay, in her meeting with Ahmad Jalali, Iranian ambassador to the Paris-based organization, also recalled the terms of UN Security Council Resolution 2347 adopted unanimously in 2017, which condemns acts of destruction of cultural heritage, according to a statement from UNESCO.
The Metropolitan Museum of Art in New York also spoke out against threatening targeting cultural sites in Iran.
"The targeting of sites of global cultural heritage is abhorrent to the collective values of our society," the museum leadership said in a statement.
"At this challenging time, we must remind ourselves of the global importance of protecting cultural sites – the objects and places by which individuals, communities, and nations connect to their history and heritage," it said.
Reuters contributed to this story.