Building civilization, fighting poverty in rural China
Share - WeChat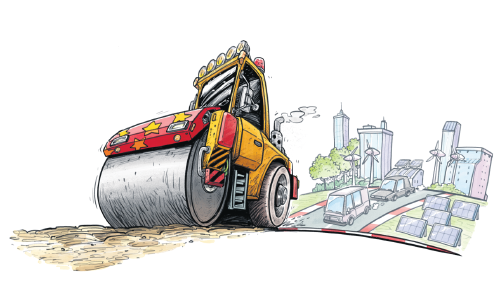 China has set itself the challenge of eliminating extreme poverty throughout the nation by the end of 2020.
Widespread rapid economic growth has raised more than 750 million people out of poverty during the 40 years of reform and opening-up. But, the last group of extremely poor people still are located in some rural villages, often in remote mountainous regions, who were not able to participate in the general economic transformation.
In 2013, during a visit to Hunan province, President Xi Jinping announced a strategy of "targeted poverty alleviation" that focused on providing the specific infrastructure, education and social support needed by these rural villages. The new programs also shifted focus from the regional and county levels to villages and households.
Especially since 2013, there has been great progress in reducing poverty in rural areas. The number of rural people living in poverty declined from an estimated 99 million rural poor in 2012 to 16.6 million in 2018.
A further 10 million-plus of the remaining extremely poor people are estimated to have been lifted out of poverty this year. The government allocated 91 billion yuan ($13 billion) to poverty alleviation funds this year and the China Development Bank has allocated 400 billion yuan.
Annual income in impoverished rural areas rose from less than 5,000 yuan in 2012 to 10,371 yuan in 2018, which is an inflation-adjusted average annual growth rate of 8.3 percent. Rural areas are slowly narrowing the large disparity in incomes versus city dwellers.
Still more work needs to be done, especially in areas suffering the most intransigent poverty. The two-day Central Rural Work Conference in Beijing on Dec 20-21 concluded that, in order to achieve the goal of eliminating extreme poverty in rural areas by next year, emphasis needs to be put on improving the living environment in those areas-including infrastructure, water supplies, sanitary toilets, education, medical services, social security, cultural activities and ecology.
I recently had the opportunity to visit a small village of about 60 families, mostly of the Yao ethnic group, in mountainous rural Yunnan province to see the ideas of targeted poverty alleviation put into practice.
Hebian Village in Mengla county, Xishuangbanna Dai Autonomous Prefecture of Yunnan province, about 40 kilometers from the border with Laos, is in a fantastically beautiful location-surrounded by mountains and rainforest. But, this isolated location has, until recently, condemned its people to extreme poverty.
Villagers said that earlier they often did not have enough to eat, their health was bad, and their houses lacked modern sanitation, water, and heat. With only an often-muddy dirt track to the outside world, children had to walk at least half a day to school, so many got only a primary education or less.
An all-weather concrete road to the village, completed in 2017, has been one key part of transforming people's lives.
Zeng Kaijun, an official with the Yunnan provincial department of transportation, in a 2018 interview with Xinhua, said: "For years, poor infrastructure has impeded development in several mountainous areas in Yunnan province … All-season roads bring more exchanges with the outside world for people living in remote areas. They also bring health, education and information services to them."
Since the 18th National Congress of the Communist Party of China in 2012, President Xi has often called on government at all levels to ensure rural roads are well-constructed, well-managed, well-maintained and well-operated. From 2012 to 2017, China built or renovated 1.28 million km of rural roads, with 99.24 percent of the townships and 98.34 percent of villages connected by asphalt or cement roads by 2017.
Xi said it was important for poverty-hit areas to improve their transportation conditions and infrastructure in order to shake off poverty and set out on a road to prosperity. Governments at all levels should increase support in this regard.
Villagers in Hebian say that similar roads have been built to all the villages in the area, so the lives of all the people in the surrounding areas have also been greatly improved.
Poverty was earlier greatly reduced in the United States by similar infrastructure programs. For example, the farm-to-market road system started in 1949 by the state of Texas was instrumental in transforming that state from a poor region into what is now the nation's most dynamic economy.
And, the Tennessee Valley Authority, a federal government program to build dams and provide electricity to rural areas, helped raise much of the South out of poverty and backwardness.
A team of researchers from Beijing's China Agricultural University, led by Professor Li Xiaoyun, has lived and worked in Hebian since March 2015 to help the villagers and to demonstrate and research programs that can succeed in reducing poverty in Hebian and similar villages. The team helped villages build new houses with modern facilities, to improve agricultural techniques, and to develop businesses consistent with the comparative advantage of the village. Their work was all under the auspices and leadership of the local government.
Li, who is a well-known national-level advisor for poverty reduction policy, said that CAU's work in the village is part of the ongoing national poverty reduction program. Most of the funds for the project come from the national government, with additional funding from local government and charities-partnered with university technical experts.
He has worked closely with the local government to use the poverty reduction funds and resources more effectively. It was a combined effort of local government, experts, NGOs and philanthropists, and involved partnership with university technical experts.
Some relatively simple steps have transformed lives. For example, the CAU team taught the villagers to separate pigs and chickens from the human houses. An elderly villager said that since this change was made he gets sick much less often.
Hebian is located adjacent to a national forest reserve and is also in the national elephant reserve. So, great care had to be taken to find business opportunities that protected environment.
So the people of Hebian built gorgeous traditional-style houses, designed by Li, each of which has a high-quality guest room. The village business strategy concentrates on becoming a venue for conferences and meetings. For example, a conference of ASEAN village officials recently met in Hebian. For weeks each summer, children from around China come to the village to enjoy the environment and to form bonds with local children.
The people of Hebian, who only recently escaped extreme poverty and isolation, still have a long way to go to take advantage of all their opportunities.
The December Central Rural Work Conference stressed that industries capable of increasing rural people's incomes should be developed and all kinds of skilled workers should be encouraged to set up businesses. Local officials are barred from merely handing out State benefits to farmers. Instead, they are required to set targeted measures to develop local industries and create jobs.
However, the villagers of Hebian have very little experience building businesses. "The villagers are very far away from real market-oriented activity. They don't have any concept, they have no capacity, nor technical skill, and no idea how to proceed," said Li.
They need help from the government and from expert teams. The infrastructure and help provided to them are just the first steps on a longer road to building capacity and prosperity.
Yet, much has been accomplished in just a few years. Huang Yuanzhou, a former village leader in Hebian who is 65-years-old, said that he has dreamed all his life of seeing a civilized rural life. Now, his dream is finally coming true.
Most Viewed in 24 Hours
China Views