Xi wants more China, Brazil space cooperation
Share - WeChat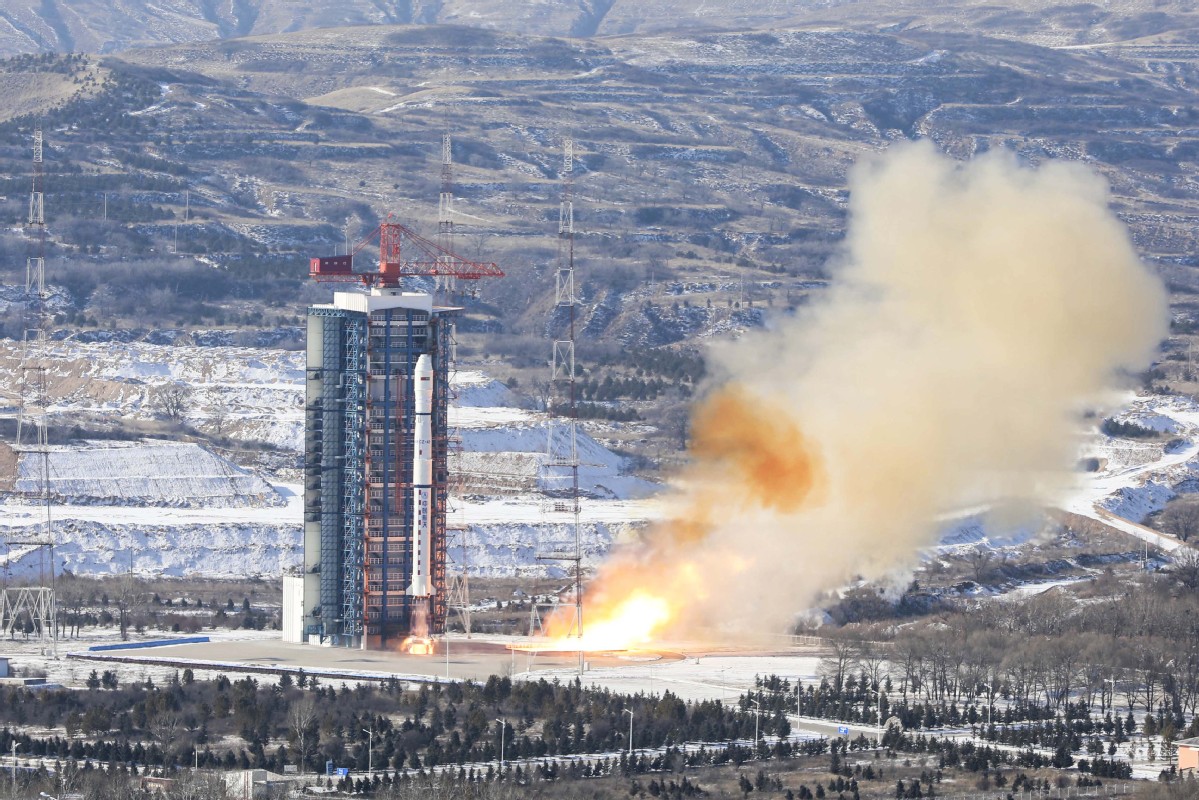 Joint efforts necessary on R&D of new satellites for big benefits to both sides
President Xi Jinping called on China and Brazil to expand their space cooperation for greater benefits to the people of both sides after the successful launch of a jointly developed satellite in China on Friday.
The CBERS-4A, the sixth satellite of the China-Brazil Earth Resources Satellite program, was launched atop a Long March 4B carrier rocket at the Taiyuan Satellite Launch Center in North China's Shanxi province and later placed in a Sun-synchronous orbit 628 kilometers above the Earth.
In a congratulatory letter sent to Brazilian President Jair Bolsonaro, Xi said that the CBERS program, initiated by China and Brazil 31 years ago, has set a good example for high-technology and space cooperation among developing countries.
Xi said the two nations should continue to push forward the research and development of new satellites to enrich bilateral strategic partnerships and bring more benefits to people of both sides.
Brazilian President Jair Bolsonaro, in his congratulatory letter, lauded the space cooperation between China and Brazil and said the new satellite would play an important role in the monitoring and utilization of natural resources of both countries.
Developed by the China Academy of Space Technology and Brazil's National Institute for Space Research, the CBERS-4A carries three optical apparatus-a Chinese panchromatic, multispectral imager and Brazil's multispectral camera as well as wide-field imager-and is tasked with producing remote sensing data to serve a wide range of public services in the two countries including land resources survey, environmental inspection, climate change research, disaster prevention and agricultural forecasts, according to the China National Space Administration.
The administration noted that the satellite will help Brazil improve the environmental monitoring of the Amazon region and other places.
Once the satellite starts formal operations, it will gradually replace the CBERS-4, which was launched by a Long March 4B from the Taiyuan center in December 2014 and has been working since then.
Marcos Pontes, the Brazilian minister of science, technology, innovation and communications, said on Friday at the Taiyuan center that several public sectors in Brazil rely on satellites such as CBERS-4A and he regarded the joint space efforts "very symbolic as a continuation of a very successful cooperation between the two countries".
He said the two countries share some common needs in satellites and there are many possibilities for bilateral space cooperation in the future.
Wu Yanhua, deputy head of the China National Space Administration, said that unlike the earlier CBERS satellites, the new one features better technologies, stronger capabilities and higher orbital mobility.
Rafael Lopes Costa, a Brazilian space engineer in the CBERS-4A program, said the satellite and its predecessors have enabled his country to be more independent on remote sensing data, adding that products generated by CBERS satellites "are very important for monitoring our large national area and environmental preservation and other applications".
China and Brazil commenced their cooperation in satellite research and development in 1988. CBERS-1, the first satellite created by the joint endeavor, was launched in October 1999.
The CBERS program has generated and distributed more than 6 million images to users in China and Brazil and also offered over 500,000 images to other developing countries and regions to help with their economic and social development.