Rare crane spotted in S China for first time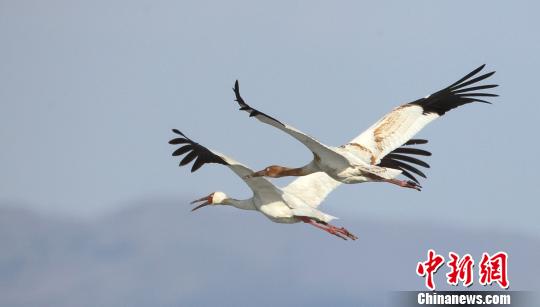 GUANGZHOU - Grus leucogeranus, or Siberian crane, was spotted for the first time in South China's Guangdong province, according to local researchers.
Locals in Xinhui district in the city of Jiangmen recently reported nine birds that have not been seen before in a local pond. Researchers later confirmed that the birds, eight adults and one baby, are Grus leucogeranus, a first-class national protected animal.
There are only around 4,000 Siberian cranes worldwide and the species is listed as "critically endangered" by the International Union for Conservation of Nature.
"This is the first time that the bird has been seen in Guangdong province," said Zhang Min, an assistant researcher with the Guangdong Institute of Applied Biological Resources.
The birds usually migrate during winter to Poyang Lake in East China's Jiangxi province. It is rare for these nine birds to fly south for another 800 km to Xinhui district, Zhang said.
Guangdong has been strengthening efforts to protect wildlife resources in recent years. The province has launched a campaign to crack down on poaching of migratory birds this year.