Chinese envoy calls for peace talks to ease tensions on Korean Peninsula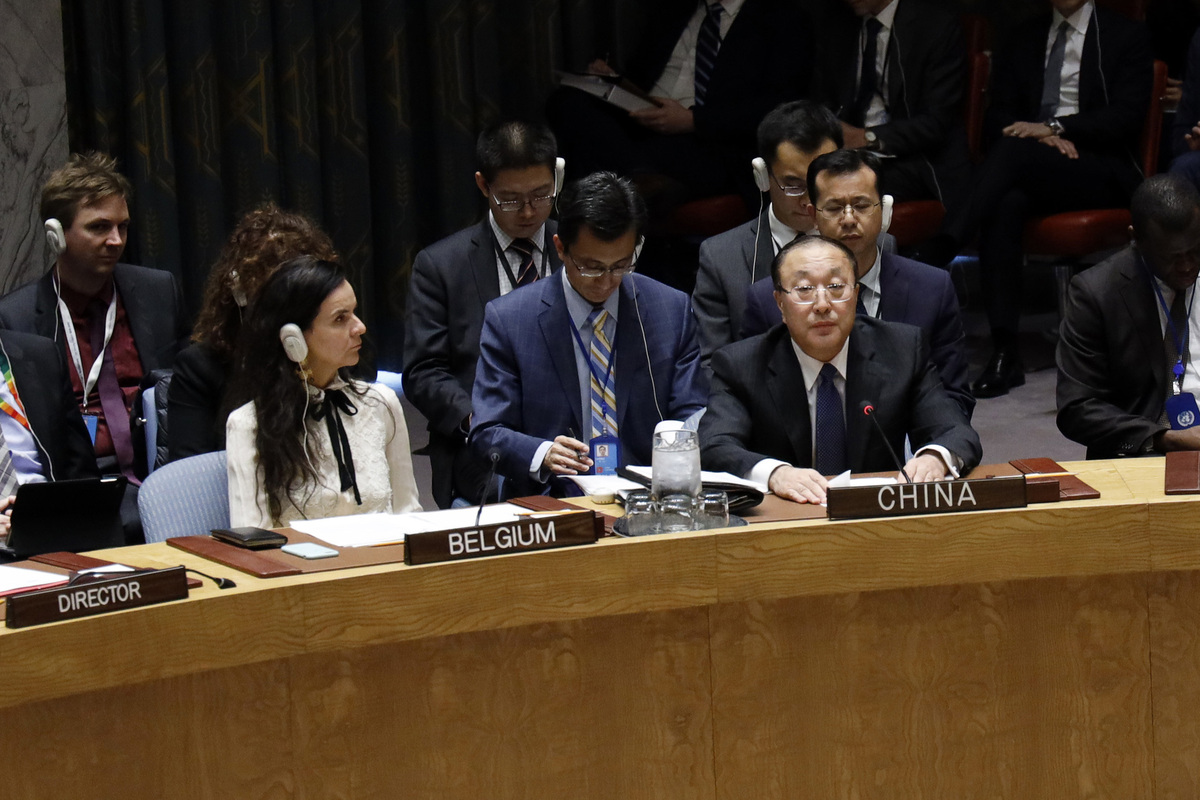 China's ambassador to the United Nations on Wednesday called on the international community to ease the tensions over the Korean Peninsula through political solutions and peace talks.
Zhang Jun, China's permanent representative to the UN, said it is crucial "to maintain the international consensus and momentum for a political solution" and to "support and urge the United States and the Democratic People's Republic of Korea to move toward each other, and do everything we can to head off a dramatic reversal of the peninsula's situation".
Zhang spoke at a Security Council meeting at UN headquarters in New York, reiterating that China has been consistent in its commitment to denuclearization of the peninsula, maintenance of its peace and stability, and the settlement of issues through dialogue and consultation.
The 15-member Security Council met at the request of the US as concerns grow that the DPRK could resume nuclear or long-range missile testing-suspended since 2017-because denuclearization talks between Pyongyang and Washington have stalled.
Positive changes
There have been some positive changes in the situation on the peninsula since 2018, and the DPRK has taken a series of positive initiatives on denuclearization.
However, the DPRK's legitimate concerns and aspirations in respect to security and development have not been given such attention as is commensurate with its effort and remain unanswered, Zhang said.
"This is an important reason behind the current deadlock in dialogue and the tensing up of the situation," the ambassador said.
He called on both Washington and Pyongyang to act on the consensus of the Singapore Joint Statement signed last year and, by taking a phased and synchronized approach, break the deadlock and resume dialogue and engagement as soon as possible, to prevent the dialogue process from "derailing" or "backpedaling".
Meanwhile, the US said it is ready "to simultaneously take concrete steps" toward a deal aimed at getting the DPRK to give up its nuclear and missile programs, but the Security Council must be prepared to respond to any provocations.
"We remain ready to take actions in parallel, and to simultaneously take concrete steps toward this agreement. We are prepared to be flexible in how we approach this matter," said Kelly Craft, US ambassador to the UN. "And we recognize the need for a balanced agreement that addresses the concerns of all parties."
She added that the DPRK needed to make "the difficult, but bold decision" to work with the US.
The DPRK has given the US until the end of this year to drop its "hostile policy" toward Pyongyang and revive the nuclear talks.
Liu Xuan in Beijing and Reuters contributed to this story.