2 impeachment articles filed
Share - WeChat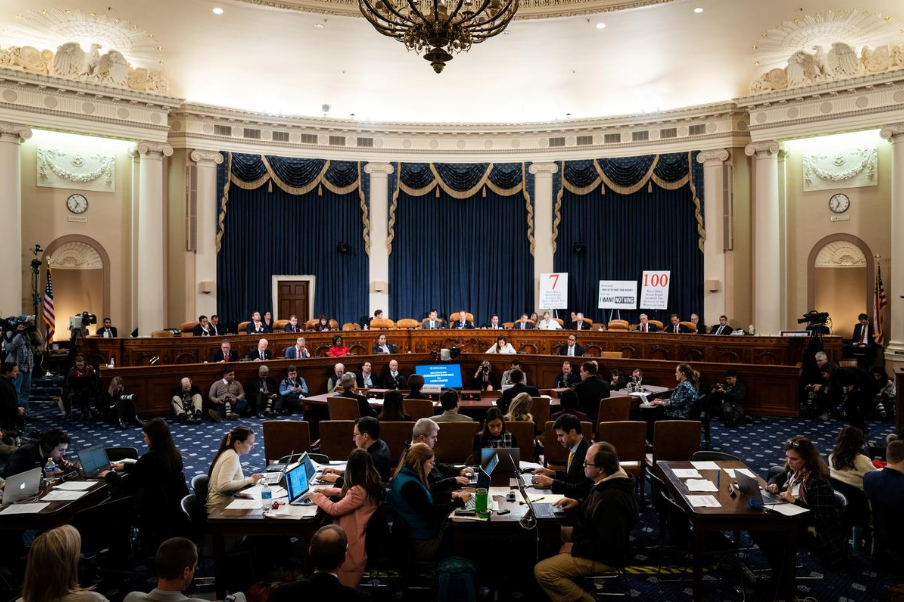 Experts say both US President Trump, Democrats face political risks as Beltway saga unfolds
Democrats in the US House of Representatives opted Tuesday to focus solely on President Donald Trump's dealings with Ukraine by unveiling two articles of impeachment — abuse of power and obstruction of Congress — which will be voted on by the full chamber later this month before heading to a potential Senate trial in January.
Such a strategy by Democrats was meant to sway public opinion, but the process has so far had little impact on potential voters, while the impeachment, which ultimately may not lead to Trump's removal from office, will be a "serious stain" on his presidency, two US researchers said on Tuesday.
Instead of having more expansive charges encompassing the findings from former special counsel Robert Mueller's probe of Russian interference in the 2016 election, House Democrats announced two articles that they believe reflect the president's worst offenses and have the broadest support.
The Democrats said Trump "enlisted a foreign power in corrupting" the US election process and endangered national security by asking Ukraine to investigate his political opponents, including former vice-president Joe Biden, who is a leading contender for the Democratic nomination to challenge Trump in the 2020 election, while withholding US military aid as leverage, according to the nine-page impeachment resolution released on Tuesday.
"Democrats know that while they can vote impeachment charges out of the House of Representatives, those charges, whatever their merits, are unlikely to be sustained in the Senate," said Cal Jillson, a political scientist and historian at Southern Methodist University in Dallas.
"So they have decided to keep the charges narrow, move them through the House to the Senate, and then shift their focus to the 2020 elections," Jillson told China Daily.
The impeachment process in the House has barely moved the needle on public opinion, Jillson noted.
Republicans continue to support the president, and Democrats continue to oppose him, while independents have shifted "ever so slightly" against the president, he said.
"It is unlikely that the Senate trial will change opinion either. I think the 2020 elections will turn more on who the Democrats nominate to oppose Trump than on the impeachment inquiry," Jillson added.
Trump is the third US president to face impeachment. He called the impeachment accusation "ridiculous" and tweeted Tuesday morning that to impeach a president "who has done NOTHING wrong, is sheer Political Madness."
"The President will address these false charges in the Senate and expects to be fully exonerated, because he did nothing wrong," White House Press Secretary Stephanie Grisham said in a statement.
Republican Senator Lindsey Graham of South Carolina, a leading figure in the impeachment of Democratic former president Bill Clinton in 1998, warned that Democrats were setting a dangerous precedent.
"Future Congresses will inevitably make impeachment a political tool to be used anytime a President of the opposing party occupies the White House," Graham said in a statement.
"Impeachment will be a serious stain on Donald Trump's presidency even if he is not impeached in the Senate," Jillson said.
Previous presidents, though sometimes grudgingly, made senior executive branch officials and documents available to congressional impeachment committees, according to Jillson.
Trump's strategy has been to fight every request for information and testimony in order to deny Congress the information necessary to prove their case and then to claim that they have failed to prove their case, he said.
The president's strategy of stonewalling the Congress is "smart if, as he expects, the Republican-controlled Senate refuses to convict him", according to William C. Banks, a Syracuse University College of Law professor.
"Likely the president will be impeached but not removed by the Senate. So far the process has had little impact on potential voters, although it is much too early to know its eventual impact," he said in an email.
Banks also said the two articles of impeachment are narrowly focused on the president's Ukraine misdeeds and his obstruction of the investigation into the same matter.
"The strategy is to keep the impeachment focused on a few things that members of the public are most likely to understand and approve," Banks said.
The strategy is risky in that it forecloses a broader inquiry into several other aspects of his presidency, but the view of the House Democrats was that waiting to have sufficient information (after the courts have ruled) would drag the process out, possibly beyond the November 2020 election, he said.
Historically, impeachments in general have been serious business with grave consequences. In this case, arguably the House correctly attempted to make the president accountable for his abuse of office and obstruction, according to Banks.
Reuters contributed to this story.