Survey: 11% licensed retailers may have to close in 6 months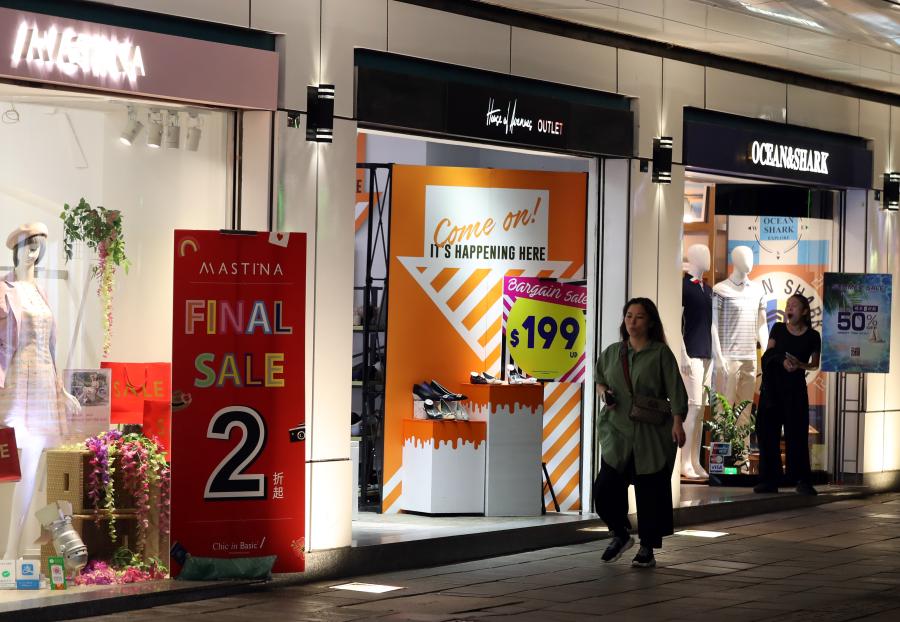 An estimated 7,000 Hong Kong licensed retailers out of 64,000 may have to shutter in the next six months due to the social unrest that has rocked the city since June, according to a survey by the city's main retail association on Monday.
The grim situation may also create severe unemployment, with over 5,600 employees likely to be laid off at that time if the situation does not improve or if government relief measures are insufficient, the Hong Kong Retail Management Association said.
The announcement followed the association's survey in October and November of 176 licensed retail establishments covering 4,310 shops.
HKRMA Chairwoman Annie Tse Yau On-yee said that the city's retail sales are the worst in history, and the retail sales value in December is not necessarily better than that of October.
October saw retail sales value plummet by 24.3 percent year-on-year, widening from a loss of 18.3 percent in September and 23 percent in August. Meanwhile, tourist arrivals were down 43.7 percent from October 2018.
Since violent protests broke out in June, about 97 percent of survey respondents have been operating in the red, and more than half of those recorded heavy losses, the survey showed. Some respondents said the companies may cut the number of brick-and-mortar shops in the next six months.
For chain stores, the situation hasn't been any better — 86 percent of surveyed chain stores said they have recorded losses they characterized as moderate or worse.
One of the Asia's leading cosmetics retailers, Sasa International, said the group planned to shut down 30 shops in Hong Kong by the end of March 2021. The closure of the shops will be in the city's core shopping districts such as Tsim Sha Tsui, Mong Kok and Causeway Bay. The group estimated that the closures will reduce 25 percent of its rent expenses.
Hong Kong snack-food chain Best Mart 360, which has been attacked frequently during the violent protests, revealed that about 75 shops have been attacked and subsequently suffered great losses. The group said it received short-term rental discounts of up to 30 percent from some landlords. The snack retailer is considering opening outlets on the mainland and in Macao.
Rent relief could be the most efficient and helpful measure for retailers as the biggest expenses for them are rent and payroll, Yau said. She appealed to landlords to provide rent relief for retail tenants.
The special administrative region government has rolled out rounds of relief measures for small and midsize enterprises since August. Yau said she hopes that these relief measures could be launched as soon as possible, especially the new relief measure for the 80 percent Guarantee Product of the SME Financing Guarantee Scheme.
According to Midland Realty, as of Nov 20, the agency had recorded 60 street shops listed for leasing or selling whose owners were willing to sell or lease them for a loss. Some of the asking prices were 30 percent or much less than the buying price.
Among them, about 24 shops were leased to restaurants, snack shops and coffee shops. The rest of them were leased to clinics, pharmacies, currency exchange stores and supermarkets.
The property agency expected more such cases in the short term.