How Pakistani restaurateur developed a taste for China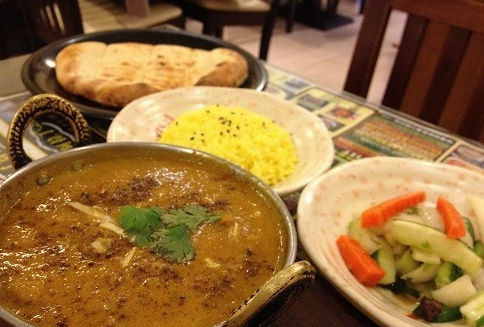 BEIJING - Zahid Khan grabbed a meal of barbecued lamb chops and chicken, took a seat by the window of his restaurant in Wudaokou, Beijing's university area, and began reminiscing.
"The chef, decor, ingredients and table music - everything is from Pakistan," said the 46-year-old Pakistani, speaking fluent Chinese.
The restaurant, in an office building 500 meters from the nearest subway station, is Zahid's second Khanbaba restaurant in Beijing. The first was opened in Sanlitun, Beijing's famous shopping and entertainment area, in 2010.
Zahid arrived in Beijing 25 years ago to study international trade at Beijing Language and Culture University.
He chose to study in China after following the advice of his uncle. In the 1980s, at the beginning of China's reform and opening-up, Zahid's uncle was hired by several Chinese companies to coordinate projects in Pakistan. He immediately saw China's "unimaginable" economic potential, Zahid said.
"I believed in my uncle's vision. But when I came, the street signs were all in Chinese and I could not understand a word of Chinese. I felt like I was deaf," he said, adding that in six months, he was able to communicate in Chinese "like a baby learning to walk".
Zahid said that getting into the restaurant business was a way of curing his homesickness by having a gathering place for parties with his friends. He didn't expect the Pakistani restaurant to entice Chinese foodies.
Both of his eateries are highly recommended on Meituan and Dazhongdianping, Chinese online platforms for restaurant reviews and takeout services. Thousands of reviews list Pakistan beef stew, cheese naan and curry chicken as must-try dishes on the menu.
Zahid quit his 10-year job in the Beijing branch of United States firm Terex in 2013, not only to devote himself to the restaurant business, but also to spend more time coordinating China-Pakistan cooperation projects.
It was the same year China put forward the Belt and Road Initiative and embarked on building the China-Pakistan Economic Corridor.
Zahid sensed opportunities from the connectivity strategies and felt sure he had made the right career choice.
"When overseas Chinese get homesick, they eat dumplings, which can remind them of their parents and hometown. Pakistanis in China do the same thing," Zahid said.
According to the Pakistani Embassy in China, 2,500 Pakistani students were enrolled in Chinese universities in 2017, out of a total of 22,000 foreigners studying in China.
That year, Pakistan was the third-largest source of international students to China after the Republic of Korea and Thailand, up six places from 2012.
Zahid said the China-Pakistan Economic Corridor boosts regional connectivity and benefits China, Pakistan, Afghanistan and India through trade and business opportunities and academic and cultural exchanges.
Xinhua