US-China wartime cooperation noted on 78th anniversary of Pearl Harbor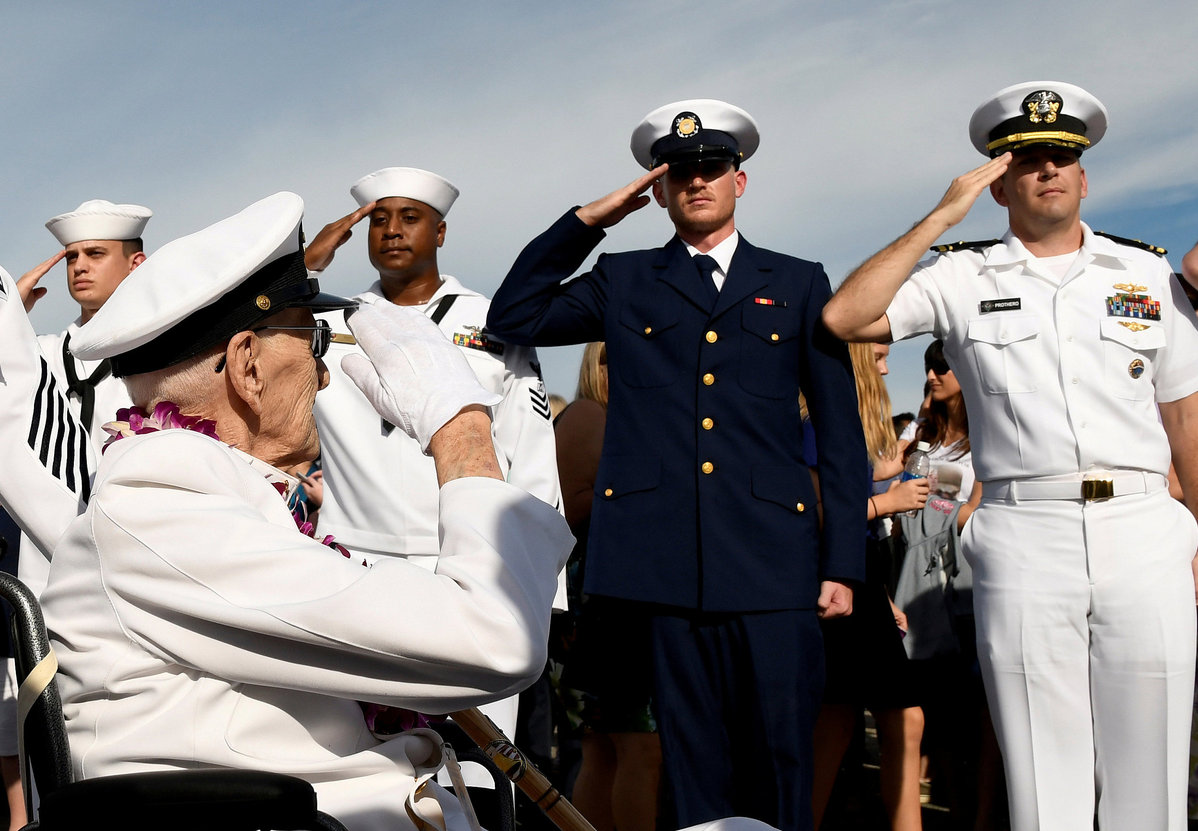 A commemorative event for the Flying Tigers, also known as the First American Volunteer Group (AVG), not only refreshed memories of a World War II-era friendship between China and the US but also shed light on future challenges.
The event, "Remembering Pearl Harbor and Saluting the Flying Tigers," took place Saturday on the 78th anniversary of Japan's preemptive air strike on the naval base at Pearl Harbor in Hawaii.
Twelve days later in 1941, on a mission to both strike Japan and defend China, Flying Tigers pilots were victorious in an air battle, the first victory after the US declared war on Japan.
Trained by US General Claire Lee Chennault, the Flying Tigers dispatched the Hells Angels squadron on Dec 20, 1941, from Kunming, Yunnan province, eventually shooting down four Japanese aircraft without losing any AVG P-40 fighters.
The victory was "of great significance," Brigadier General Windsor Buzza of the 91st Training Division said at the event Saturday. "It (the good news) came in during the lowest period of the Second World War for both the US and the Allied Forces," adding that the victory gave hope to America that although "we were knocked down, we were not out".
Harry Moyer, a 99-year-old World War II veteran who was a Flying Tigers captain in the 1940s, recalled his service in China in 1944, when his squadron was sent to Chengdu, Sichuan province, to launch strategic bombing of Japanese invaders.
Standing beside a refurbished P-40 N Warhawk fighter at Saturday's event, Moyer said he remembered the airfields in Chengdu, where his aircraft would take off and land.
"It was specially built on deadline, through the hard work of numerous local farmers and soldiers," he said.
China's government and its people have never forgotten the Flying Tigers, their contribution, their sacrifice and much-needed assistance during the Chinese People's War of Resistance Against Japanese Aggression, said Wang Donghua, Chinese consul general in San Francisco. "We should carry forward the profound spirit of our friendship and work together more closely in the future to solve any problems," he said.
In 1931, Japan invaded China, marking the beginning of the Chinese people's 14 years of tenacious fighting against Japanese aggression. During the war, China suffered more than 35 million casualties and made a massive national sacrifice in order to hold ground in the main theater in the East of the World Anti-Fascist War, a major contribution to victory in the war.
On the 40th anniversary of the establishment of diplomatic relations between the world's two largest economies, the commemoration is a chance to "review the history, cherish the friendship and move forward for our common goals", said Wang.