Esports to spur gaming sector
Share - WeChat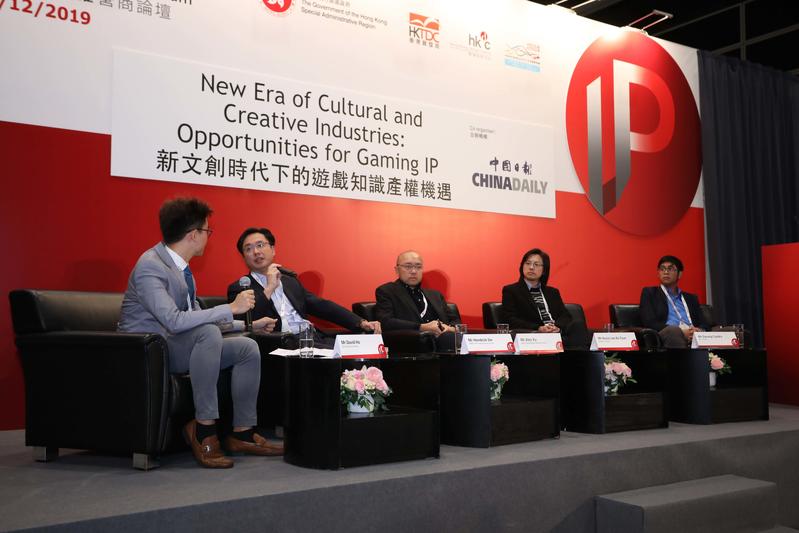 Intellectual property is the lifeblood of content creators and game companies, empowering them to retain users and sustain growth, and the industry will gain fresh momentum and traction in future as esports becomes popular, panelists told a forum on Thursday at the China Daily Asia Leadership Roundtable themed "New Era of Cultural and Creative Industries: Opportunities for Gaming IP".
The forum, co-organized by China Daily Asia Pacific and the Hong Kong Trade Development Council, brought together prominent game developers and publishers, investors and top-tier industry stakeholders. It was held as part and parcel of the Business of IP Asia Forum.
"While it's true that the online game industry is much more robust on the Chinese mainland than it is in Hong Kong at the moment, I believe Hong Kong is keen to catch up with the world's leading online gaming cultures with a little push from the local government," said Zhou Li, editorial board member of China Daily Group and publisher and editor-in-chief of China Daily Asia Pacific.
Citing the HKSAR government's initiative to pledge HK$100 million ($12.8 million) for the city's esports industry in the 2018-2019 budget, Zhou noted that the flagship Hong Kong international esports event, introduced merely three years ago, has seen huge turnouts every year, including in July 2019.
Darang Candra, head of esports research at Niko Partners, called esports the "No. 1 driving force for growth in the gaming industry" as it's able to reach a global audience regardless of what language people speak, and make the game understood across the world.
Riding high on the live streaming craze worldwide, esports has spawned its own ecosystem and given birth to a billion-dollar advertising market, he said.
Hendrick Sin, co-founder and vice-chairman of CMGE Technology Group, believed his Shenzhen-headquartered mobile game company, founded in 2009, is already a step ahead in testing the massive potentials of the IP-based mobile-game market, where the market in China alone reached 97.2 billion yuan ($13.8 billion) last year.
The total market size of the country's mobile-game market amounted to 145.1 billion yuan.
Candra is upbeat about the market's potentials. The market size in terms of revenue of PC (personal computer) and mobile games on the Chinese mainland hit $30.8 billion last year, and the mainland is now, undoubtedly, the games industry's capital of the world.
"For everyone here in Hong Kong, right next to you is the biggest games market in the world, bigger than the US," Candra said.
Drawing on his 25-year-long working experience in the gaming sector, Alex Xu Yiran, chairman and CEO of Leyou Technologies Holdings, introduced the two major types of companies in the gaming world — platform companies and content providers.
"Platform companies are defined as bigger players known for their capabilities to acquire a valuable user base at low cost, in the large quantity, in a steady manner, in the long run and for a long time. Ideally, they do nothing but just lie in bed and wait for the money to flow in," Xu said in jest.
By contrast, content providers are smaller players who rely on platform companies to access the user base and make money.
"This is where IP could come in. IP can empower content providers and make them a bit closer to powerful platform companies," Xu said.
He believed the story unfolds in both ways. On the other hand, online games themselves not only count on IP, but also provide value for IP.
"The value of IP comes from the user base and users' willingness to pay the money. Multiplayer online games, thanks to long life cycle, can keep users playing and paying for the game for decades," he explained.
Sin said IPs are usually obtained from two channels. The traditional approach is to work with global leading IP owners such as Disney on a game-by-game basis. Today, a more proactive approach for an ambitious game developer and publisher like his company is to invest in IP startups, including TV dramas and animations. "When they are incubated, we can work with them on games," he added.
Kevin Lee Ka-tsun, founder and CEO of Redspots Creative, said his company has been working with large Chinese online platforms like Kugou and Bilibili, by providing its VR interactive technologies as solutions, and webcasters of those platforms can create their own VR figures and do live streaming through these figures.
Redspots Creative provides cutting edge technologies and tools for people with great ideas or good stories to tell, so people can create their own animations or comics and these are all IPs.
Currently, the company, which owns 120 comic book IPs and more than 3,500 episodes of stories, is working with several workshops in Hong Kong.