Trash-talking millionaire cleans up the streets
Zhong Congrong is on a mission to stop littering and doesn't mind getting his own hands dirty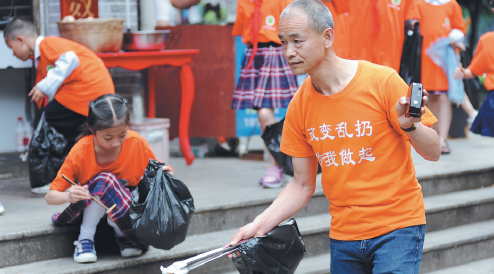 Zhong Congrong is so passionate about cleaning up rubbish his wife sometimes worries about his personal safety.
Around Chongqing, he harangues people who litter and chases them through the streets if they don't pick up after themselves. At night, he goes to restaurants and exhorts diners through a mini microphone not to leave a mess.
The 54-year-old also happens to be a multimillionaire. Zhong runs three companies involved in foam products, auto parts and real estate in the city, where he is well-known for his mission to stop littering.
"I am worried about his safety because of his bad temper," his wife Yang Zuhui said.
"He has had several disputes and even physical confrontations with unreasonable people. I just hope my calming influence can help avoid such unpleasantness."
The businessman's crusade began in 2015 during Spring Festival, when Zhong and his wife took their son and daughter on vacation to Sanya, Hainan province.
His daughter was in primary school and had to complete a parent-child activity, so Zhong advised the family to pick up trash on the beach.
"I found some tourists had thrown empty bottles, fruit and used tissues everywhere, making the beautiful coastline very dirty and messy," Zhong recalled.
"I made the decision to clean up the beach, hoping to improve my children's awareness of environmental protection through a family activity."
On the beach, they encountered an elderly couple who were doing the same thing.
"They told me that every morning they came there to collect trash after they had retired to the city five years earlier," he said.
"I couldn't help expressing my admiration. But at the same time, I realized that the amount of trash would never decrease if we only depended on them picking it up without promoting public awareness of environmental protection."
For the entire holiday Zhong joined the couple cleaning up the beach.
But he didn't stop when he returned to Chongqing, even though he was busy with work.