Medical volunteers help to ensure safer air trips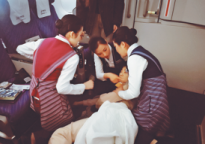 For the vast majority of people, air travel is fast and easy. But it can be stressful for those flying with an active or underlying health condition.
To avoid in-flight discomfort, carriers should equip themselves with sophisticated systems and skilled attendants. Meanwhile, passengers should be prepared to relax at high altitudes, experts said.
When a young passenger fell ill while flying with China Southern Airlines, a calm and disciplined cabin crew rose to the occasion and saved his life. The flight was bound for Shenzhen in Guangdong province from Beijing on Nov 22. The passenger lost consciousness and there were no doctors on board to offer medical assistance.
"The clock was ticking," a crew member on that plane recalled. "So our team decided to follow the steps in an official rescue manual to bring him back. We moved him to a side-lying position, elevated his feet by putting quilts and pillows beneath while giving him oxygen."
The young man's condition improved little by little and his weak pulse gradually returned to normal. "When I was able to sit up, I found that my body was not on a cold floor, but in a warm blanket. I finally saw the sweaty crew members. They are all my lifesavers," the passenger said.
There was a more courageous act on a CSA flight on Nov 19, from Guangzhou in Guangdong province to New York. A doctor called Zhang Hong saved an elderly male passenger by sucking urine from his blocked bladder and spitting it into a wine bottle.
"Saving lives is a doctor's instinct. There was no other way. I didn't think much about it," Zhang said.
Many doctors have registered as volunteers of a program launched by CSA, which has been committed to supporting passengers' health for decades.
The program recruits qualified medical personnel and creates files for them.
"When one volunteer flies with us, there will be a sign popping up in our system so attendants can quickly find these physicians in an emergency," an attendant from CSA said.
As of November 2018, the number of medical volunteers registered with CSA had reached 4,194. Of them, 185 had participated in onboard medical first aid.
The Aerospace Medical Association released a brochure in 2016. It offers general health information and air travel tips, from in-flight information to dealing with jet lag.
It suggests people who are ill or have a chronic health problem consult physicians and get clearance before air travel. For those on board, arm and leg exercises before standing up will usually prevent fainting.
Passengers should be drinking about 240 milliliters of water every hour during a flight to prevent dehydration. They should also avoid eating gas-forming foods like peanuts and cabbage or carbonated liquids shortly before a flight, the brochure says.
`