Family of elderly man killed by rioter call for end to hatred in Hong Kong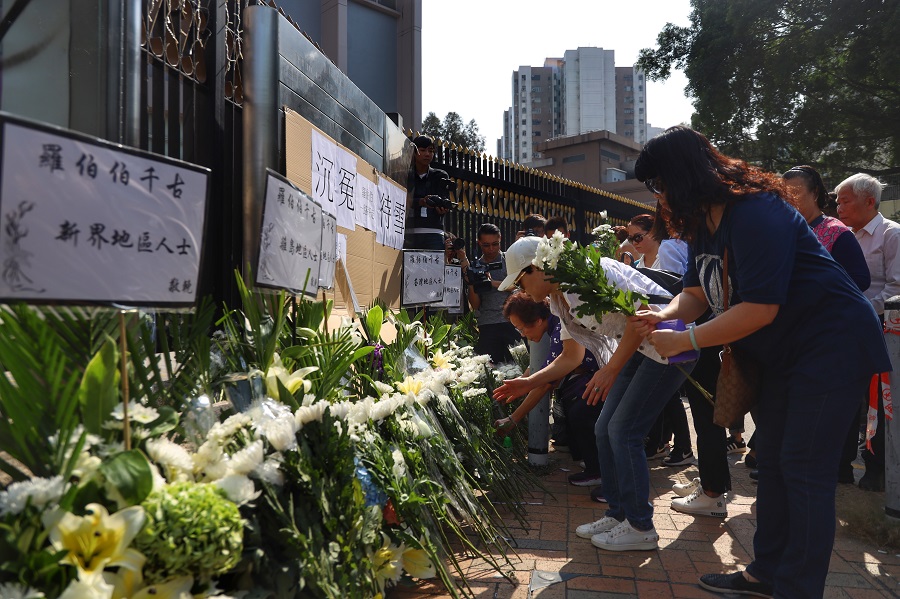 HONG KONG -- Over a week after a 70-year-old street cleaner in Hong Kong died after being struck in the head by a brick thrown by a rioter, his family on Friday grieved over the loss of their loved one, their first in public.
At the site of the incident, his son knelt down in front of the sanitation worker's portrait, saying that "rest in peace, my father." After the mourning, the Hong Kong Federation of Trade Unions (HKFTU) held a press conference for the family.
"My father's death was quite sudden and I felt very sad," he said, urging Hong Kong police to bring the killer to justice as soon as possible. Police have said they were probing the case as a murder case.
The son also expressed his hope that his father's demise, the first death of an innocent civilian in the months-long unrest, could "put an end to hatred" in Hong Kong.
He told the media that his father had always loved the country and Hong Kong, and taught him to stand up to difficulties and dangers.
He believed that at the scene, his father was filming the rioters' irrational behavior to help police obtain evidence.
"This time, my father did his part as a resident, and I'm proud of my him," he said.