A complete US Huawei ban was always unfeasible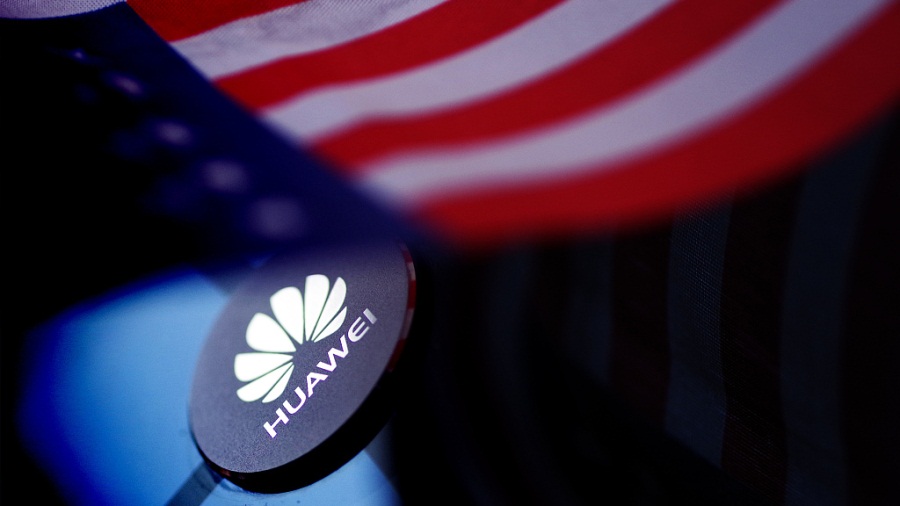 Editor's note: Tom Fowdy is a British political and international relations analyst and a graduate of Durham and Oxford universities. He writes on topics pertaining to China, the DPRK, Britain and the United States. The article reflects the author's opinions, and not necessarily the views of CGTN.
Despite turbulence in US-China relations, not everything is bad news. Yesterday, the United States Department of Commerce announced Wednesday that it has started granting licenses for American businesses to pursue deals with Chinese telecommunications firm Huawei. The firm, which was blacklisted in the department's "entity list" in May, had been a longstanding client of many major US technology companies that led to an outcry of lobbying towards the White House.
Up to 270 companies have applied for such licenses reportedly. The Department insisted, however, that authorization would only be given to business activities which did not "pose a significant risk to the national security or foreign policy interests of the United States." Nevertheless this is anticipated to provide enough scope for existing suppliers of Huawei in terms of computer chips, as well as intellectual property provisions such as Google's Android services.
Although progress on Huawei relief has been pledged since the G20 Osaka Summit in June, and concurrently linked to the progress in trade talks between the US and China, the reality of this development is that it has not been feasible for Washington to totally cut off the company without inflicting major damage upon itself.
Silicon Valley's commercial ties to the company were extensive, and they pushed Washington hard to relax the decision. Given this, the Huawei ban did not even fully materialize in practice, with repeated extension windows in place. Now, a formal licensing structure is finally emerging. It shows the reality that US-China tech ties are too deep and extensive to be "decoupled" in the way which some politicians envision. For all their relentless demonization of the firm, Washington is learning to live with Huawei.
The Huawei blacklisting itself was an abrasive and reactionary move by the Trump administration which did not pause to consider the consequences. Its outcome was a backlash from Silicon Valley heavyweights who saw the move as a major attack on their business. Their retaliation was to lobby Washington against it, aggressively. Major figures in the industry such as Bill Gates openly attacked the ban and questioned the political narrative on Huawei. The White House held a meeting with the CEOs of the country's biggest computer firms, where it reassured them behind closed doors. The figure of 270 firms applying for licenses does not lie.
This atmosphere has quickly transmitted into a willingness by the White House to concede. With the ban being placed so abruptly, the Commerce Department pledged a "90-day window" for firms to continue business with Huawei in a contingency mode. However, it was then extended not once, but twice. The scope of US business with Huawei was so broad that the damage of such a sweeping ban was unavoidable, forcing the administration to row back.
Consequently, after the G20 summit meeting in Osaka between Trump and Xi Jinping, the President pledged to relent in part on the blacklisting, acknowledging that it was beneficial for US trade for firms to sell to the company. However, the president at the same time also sought to weaponize concessions on the firm as part of his trade war. As he pursued escalation, promises on Huawei were not fulfilled. In September, he even said "we're not doing business with Huawei" at a time when trade tension reached its peak.
However, in the following months the White House became more serious about reaching an actual deal and Trump began touting a "phase one" agreement with China, and given such it appears the administration felt it was finally time to live up to its agreement on Huawei, easing the fears of tech companies and incentivizing China to offer more in negotiations. Finally, the bureaucratic wheels are in motion and licenses are being granted to firms to continue their business as usual with the Chinese firm. This means Google is likely to resume supplying Android to designated phones soon.
But as a whole, what does this development teach us?
It tells us despite the political aspirations of some, the scope of American-China tech ties run so deep and are so integrated that talk of "decoupling" is at best, a fantasy. The White House wanted to impose severe pain upon Huawei, but found it simply could not do so without inflicting severe pain on Silicon Valley. As a result, this licensing is the first step in the recognition that the United States simply has to learn to live with Huawei and for that matter, other Chinese technology companies. It is too big to ignore, too important to dismiss and too self-defeating to shut out.
Most Viewed in 24 Hours
China Views