Conservation heroes honored at 2019 African Ranger Awards
Share - WeChat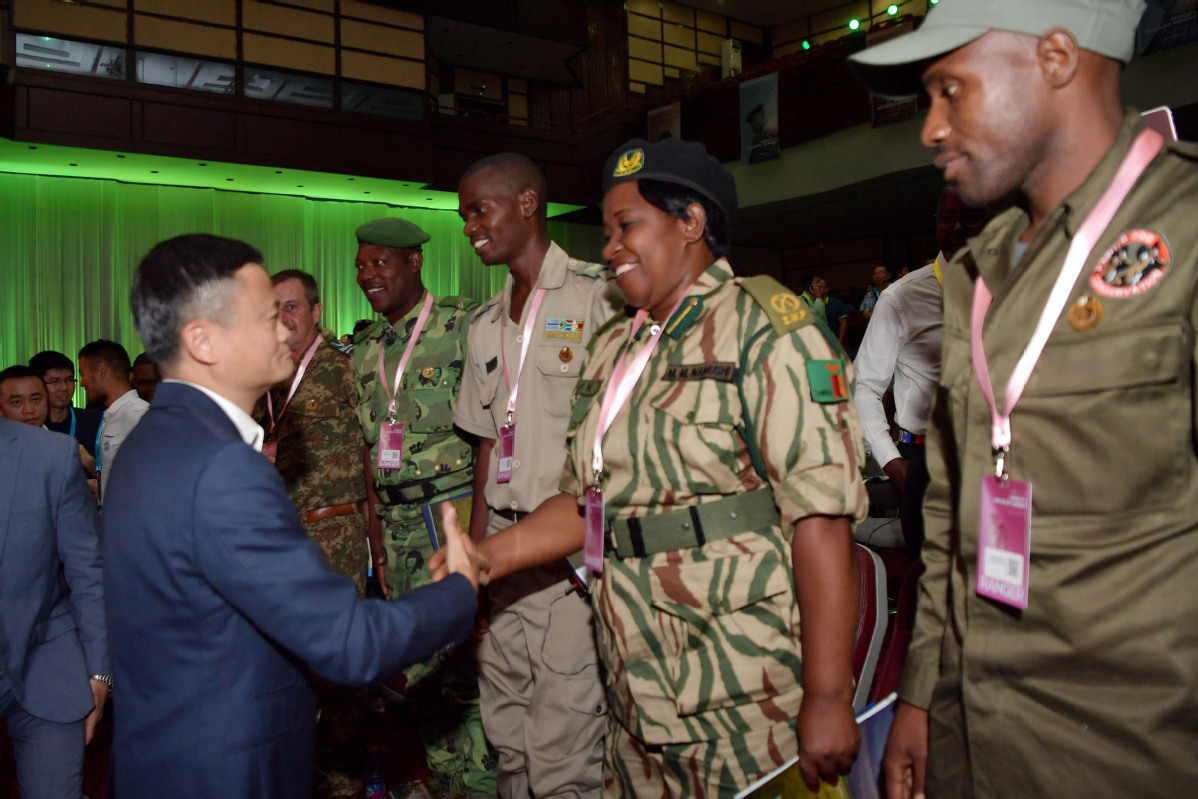 Future Hoko, the head game scout at Zimbabwe's Sentinel Ranch Limpopo Safaris, was out in the bush on his daily routine of conserving the wildlife. He was fast asleep at around midnight when he was awakened by a lion scrabbling at his feet.
Within a second, the lion was dragging him as he shouted for help. Fortunately, he broke loose from the animal, reached for his gun and shot in the air several times. The king of the jungle scurried away.
Hoko then braved the painful injuries on his leg and climbed a nearby tree until the following morning when he was rescued. He spent a month in the hospital, followed by two more months to recover fully, after which he returned to his duty of protecting nature.
For five years, protecting wild animals and dealing with poachers has been Hoko's job.
"I have a passion for my job and I enjoy it. Since a young age, I have been passionate about wildlife," he said.
Similarly, Leonidas Mpumuje, head rhinoceros monitor in Rwanda's Akagera National Park, recounts how he narrowly escaped death. He was attacked by a poacher, who wanted nothing more than to kill him.
"The poacher called his fellow poachers to come and kill me but, luckily, my colleagues arrived before them, rescued me and arrested him," he said.
Stefan Cilliers, senior section ranger and scout coordinator at Mapungubwe National Park in South Africa, said every night he and his colleagues encounter poachers and smugglers trafficking illegal goods through the park.
Armed traffickers
In addition to intimidation from the communities neighboring his park, Cilliers said he and his colleagues often encounter armed human traffickers traveling on the way from north Africa to South Africa. "However, we keep on working, it's our work, we chose it, we were not forced into it," he said.
The three rangers were among the top 10 who were recognized at the second edition of the African Rangers Awards, held in Accra, Ghana on Nov 15. A total of 50 rangers earned awards in 2019.
Funded by the Alibaba Foundation and Paradise International Foundation, the awards intend to motivate park rangers across the continent to confidently carry on their duties.
The awards were set up to support African rangers combating the precipitous decline of Africa's wildlife due to poaching, habitat loss and illegal trade.
The experiences of Hoko, Mpumuje and Cilliers are not isolated cases. They're just part of the job for park rangers in Africa, who risk their lives to protect the continent's rich and diverse natural wildlife.
According to a 2016 World Wide Fund for Nature survey of rangers in 12 African nations, 82 percent had faced mortal danger on the job, and more than 60 percent were attacked by poachers.
The Africa Rangers Awards seek to identify 500 rangers over the course of 10 years and provide grants totaling $1.5 million to support their work. The first awards event was held in Cape Town, South Africa, in 2018. Fifty rangers working in 17 countries across Africa won awards that year.
Jack Ma applauded African rangers for their efforts at the Accra ceremony. He is the founder of the Alibaba Group, which in turn set up the Alibaba Foundation.
"You are the real heroes of Africa. We respect the work that you do. While we protect ourselves first, rangers face dangers and poverty and put their lives on the line to protect wildlife," Ma told the award winners.