Veteran entrepreneur weaves a new future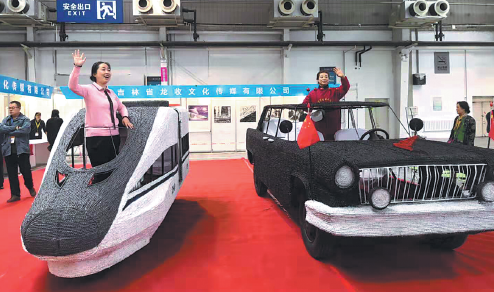 Sun Yaqing had a successful logistics business, but couldn't resist a fresh challenge
Over the past two years, Sun Yaqing and her employees have finished more than 1,000 straw sculptures and sold them in different cities around Jilin province.
Sun, 65, opened her straw sculpture factory in Changchun, the capital of the province, in 2017. Various sculptures, including figures, animals and vehicles, have enjoyed growing favor among customers around the province.
"To finish a sculpture, workers need to build a steel skeleton according to the requirements of a customer's order and then begin plaiting straw on the skeleton," she said. "After coloring, the sculpture is transported to the appointed location for installation. We also provide a maintenance service."
Sun said they already had customer orders for next year.
"Products with local features, such as Hongqi (Red Flag) cars, high-speed trains and Siberian tigers have become the most popular," she said.
The increase in sales has triggered the need for more workers. During the busiest periods there are nearly 100 employees at the factory. Besides a dozen permanent workers, all the other employees are drawn from surrounding villages.
"After years of contact with farmers I pay attention to their lives," Sun said. "I hope I can provide chances for farmers to make money during the slow season."