Mushrooms, a perfect match with white truffles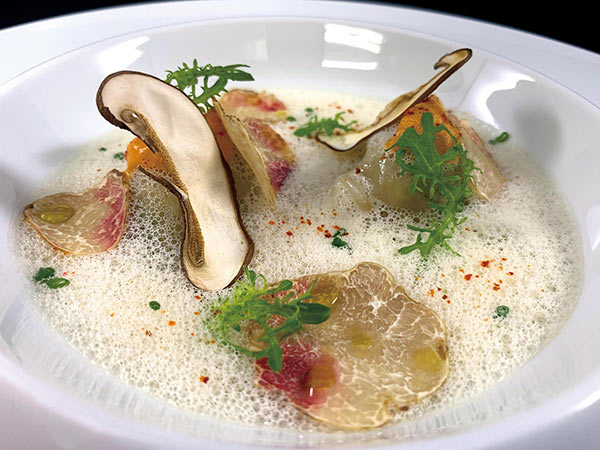 The recipe
Scallops in ravioli, topped with a Saint-Hubert smoked Fleurette sauce (serves four)
4 scallops
8 sheets of gyoza dough
400g white button mushrooms
1 shallot, chopped
40g of butter
200g of liquid cream
1 small white truffle (optional)
Sea urchin coral (optional)
Mushroom duxelles:
Wash the mushrooms thoroughly. Separate the caps from the stems, and reserve the stems for the cream. Finely chop the caps with a knife or a cutting robot. Sweat the shallot in butter without coloring it, then add the chopped mushrooms, salt and pepper. Cook until the water has evaporated completely.
Cream of mushroom:
Slice the mushroom stems and add a knob of butter to color them. Pour in the cream and gently simmer for ten minutes. Strain the cream through a small strainer, adjust the seasoning and keep the sauce warm.
Assembly of ravioli:
Mark the scallops with a drizzle of olive oil seasoned with fine salt and ground pepper. On a piece of round-shaped gyoza dough, gently place a teaspoon of duxelles, then half a scallop. Cover with another teaspoon of duxelles and finally close the dough to give it the shape of ravioli.
Touch-ups and dressing:
Immerse the ravioli in simmering salt water for two minutes. On a soup plate, arrange two ravioli per person harmoniously. Cover delicately with mushroom cream. Garnish with a few sea urchin tongues, a dash of olive oil, a turn of the pepper mill and grate the white truffle just before serving.