Spotlight falls on shared future as Taihu World Cultural Forum opens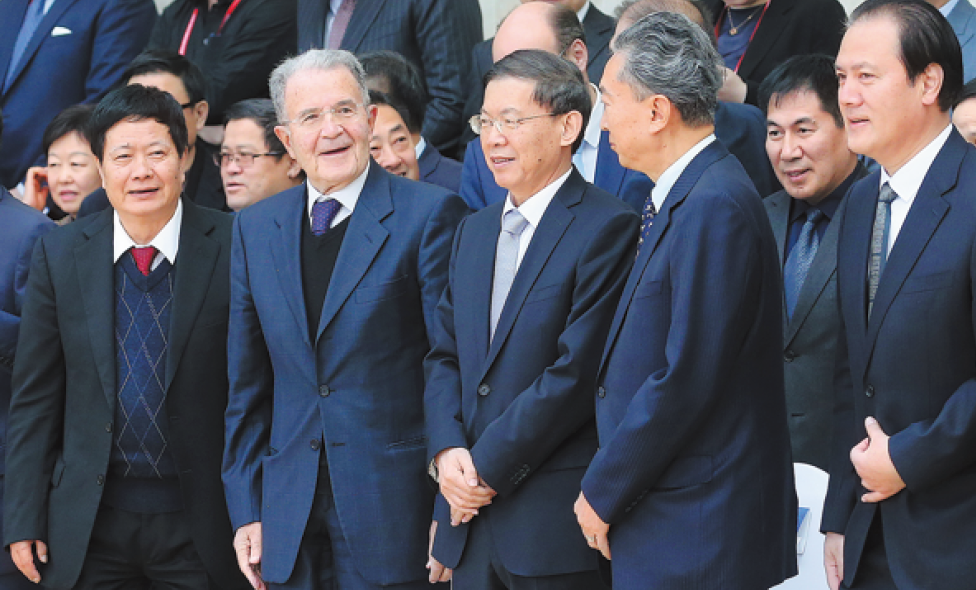 Hundreds of politicians, entrepreneurs, scholars and celebrities from cultural circles worldwide gathered in Bengbu, Anhui province, on Monday for the sixth annual conference of the Taihu World Cultural Forum, a vehicle to deepen cultural exchanges between China and the world.
This year's theme is "Dialogues between Civilizations: Building a Community of a Shared Future for Mankind".
Parallel discussions were held on the roles of business culture, cinematography, preservation of intangible cultural heritage, fashion and other fields in building a cross-border community of a shared future.
"China will always be the builder of world peace, contributor to global development and the defender of the international order," said Hao Mingjin, vice-chairman of the Standing Committee of the National People's Congress, in a speech at the opening ceremony on Monday. "China is willing to join hands with other countries to uphold ideas of sustainable development, advocate multilateralism, improve global governance and build a more prosperous world together."
Yan Zhaozhu, chairman of the forum, said, "The trend of globalization, multipolarity and cultural diversity has become reversible. The time when hegemonists could do whatever they wanted in the world cannot continue."
In a dramatically changing world, Yan said, no single country can stand apart from the world's new challenges.
"Peace, cooperation, and development comprise key themes for the modern world," Yan said. "The more complicated the international situation we face, the more we need to safeguard the shared interest of countries. Mutual respect and learning among different countries should, therefore, be even better promoted."
Attendees include former Italian prime minister Romano Prodi, who is also the honorary president of the forum, former Japanese prime minister Yukio Hatoyama, and Irina Bokova, former director-general of UNESCO.
Prodi said countries are good at dialogue on politics, science, technology and fine art, "but they are often not linked together. … The world needs a new glue."
He praised the forum as a way to link programs in a comprehensive dialogue to build a shared intellectual and cultural foundation. "If we look at cultural roots and understand each other's thinking, we can make wise decisions on important and complicated issues," he said.
Hatoyama said cultural communication will bring people-to-people connectivity and build political trust between countries. "The world shares a common pursuit of truth," he said. "We cannot fall into chaotic quarrels only because the way we reach the truth is different."
Bokova, who worked closely with China on cultural heritage protection at UNESCO, said inspiration can be drawn from history.
"The Silk Road tells a story of human progress driven by mutual learning and reminds us no culture has ever flourished in isolation," Bokova said. "Civilizations influence and enrich each other, growing stronger as they are more inclusive. I see the Belt and Road Initiative … as another 'soft power infrastructure'. It provides younger generations the knowledge, values and openness of mind to shape more inclusive and peaceful societies."
Zhou Shuchun, a member of the Standing Committee of the National Committee of the Chinese People's Political Consultative Conference and editor-in-chief of China Daily, co-host of the Taihu forum, said the forum is aimed at promoting cultural exchanges at a higher level and covering broader areas to contribute more strength to the world's progress, gathering inspiration from different ideas.
Zhou called for seeking modern values from ancient civilizations to push for the building of a community of a shared future for mankind, better protect traditional craftsmanship and revive it through innovation and enhance cooperation in cultural industries to instill new vitality into world cultural exchanges.
The forum, named after Taihu Lake, was started in 2008. The first of the forums was held in 2011 by the lake in Suzhou, Jiangsu province. It was followed by forums in Hangzhou, Zhejiang province, in 2013; Shanghai in 2014; Macao Special Administrative Region in 2016, and Beijing in 2018. Sideline events have also been held at home and abroad.
"Huge trust and great opportunities come upon us when the forum comes here," said Yu Aihua, a member of the Standing Committee of the CPC Anhui Provincial Committee and the province's publicity chief.
Thanks to a forum initiative, an international exchange center for cultural and artistic skills also opened in Bengbu on Monday. Bokova will be honorary director.
Wang Yingchun, Party secretary of Bengbu, said the center will be used not only to display traditional skills, but to serve as a hub for educational programs and development of related products.
"In the new era, we need to rediscover the value of legacies left by history, avoid overexploitation of nature, avoid hostility and discrimination against other cultures and attain harmony not only between humans and nature but among different peoples," said Yan, the forum chairman.
Reflecting the emphasis on traditional craftsmanship, this year's forum is being held in a Bengbu park that is the site of hundreds of preserved ancient houses. It will also be the permanent venue for the new cultural exchange center.
The houses were saved from demolition and moved to the park from across the nation by Ma Guoxiang, president of Shanghai Xiang­jiang Industrial Corp and a member of the National Committee of the CPPCC.
"These houses do not belong to me personally, but are a common legacy of humans," Ma said.