Former US ambassador urges caution in US-China relations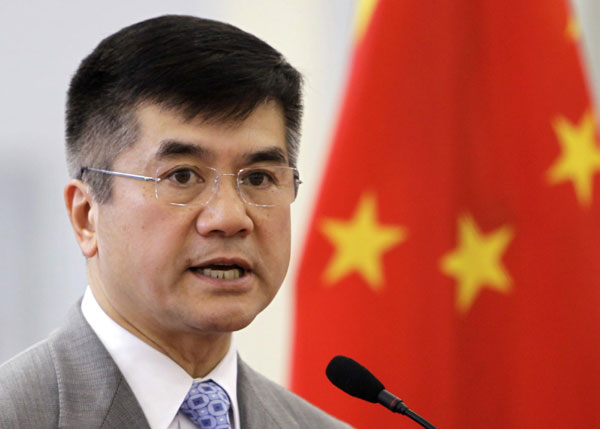 Former US ambassador to China Gary Locke urged an early resolution of trade frictions between the US and China for the benefit of workers and consumers of both countries on Monday, saying long-term damage to the bilateral relationship should be avoided.
Locke, who also served as Secretary of Commerce during the Obama administration, highlighted the importance of a strong bilateral relationship and further dialogue between both sides during a symposium held in Beijing.
"Many of the issues facing the world cannot be solved by China or the US alone, only together. And that's why we need to quickly resolve this trade dispute," he said.
He underscored the need to address fundamental underlying issues that gave rise to the trade frictions, which he said is a manifestation and a result of a growing concern in America.
"It's important we have this dialogue to explain the sentiment of the American people and American businesses and the political leadership," he said.
Locke underlined the importance of dialogue in fostering greater understanding and in-depth discussion about the mindset, attitudes and underlying views of leaders from both countries and peoples.
"Only if we have greater understanding can we reach resolutions to some of these fundamental problems and hope that we can then move forward together to address the big issues facing the entire world," he said.
The US-China relationship is the most consequential bilateral relationship in the world, and a strong US-China relationship is good for the entire world, he said.
Locke also said a prosperous China and a prosperous United States are in the interests of both nations.
"A prosperous China is good for the United States because a growing and prosperous middle class means more demand for made-in-USA goods and services," he said. "And that means jobs for the American people. A prosperous America means more money in the pockets of Americans that they can then in turn spend on high-quality low-cost goods from China, which also means jobs for the Chinese people."
He called upon the two countries to work together addressing global issues such as fighting terrorism, disease and climate change.