Yangtze River culture in focus at arts festival
Share - WeChat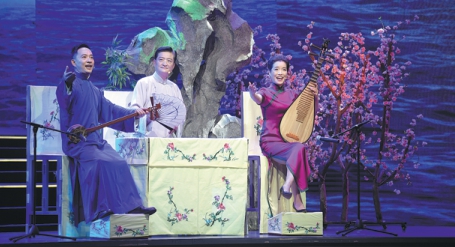 More than 30 relics unearthed at the Huangsipu ruins, one of the top 10 archaeological discoveries in China in 2018, are being showcased to the public for the first time at the 2019 China (Zhangjiagang) Yangtze River Culture and Art Festival.
The festival kicked off with an opening ceremony at the Poly Grand Theater in Zhangjiagang on Nov 1 and will run through Nov 26. According to the organizers, 10 cultural activities and 17 trade events are due to be held during the festival.
Located on the southern bank of the Yangtze, the city in Jiangsu province lies at the intersection of the Yangtze River Economic Belt and the 21st Century Maritime Silk Road.
The region covers around 1,000 square kilometers and boasts extensive intermodal traffic networks (road, water, rail and air) as a county-level city in China. It's also poised to become one of the first county-level cities to have three main high-speed rail lines passing through it.
The festival's opening ceremony featured songs, dances and instrumental performances, as well as recitations and operas from 12 provinces and autonomous regions along the Yangtze River.
According to Yang Fang, head of the publicity department of the Zhangjiagang Party committee, the Yangtze River Culture and Art Festival is showcasing 80 performances and 100 folk programs from different areas along the river.
"This festival is committed to the integration of cultural resources along the Yangtze and plays a special role as a bridge to boost economic and social development," Yang says.
One of the highlights of the festival is the Yangtze River Civilization and Maritime Silk Road exhibition, which depicts the development of civilization along the Yangtze River through historical exhibits and multimedia presentations. Visitors will also be able to view 30 relics unearthed at the Huangsipu site at this event.
"This is one of the first national cultural relics exhibitions that is themed on the civilization of the Yangtze River. It features more than 70 precious cultural relics from museums in five provinces along the river, including Qinghai, Sichuan, Hubei, Jiangxi and Jiangsu," says Qian Jun, curator of the Zhangjiagang Museum.
Most Popular