Palestinian killed in clashes with Israel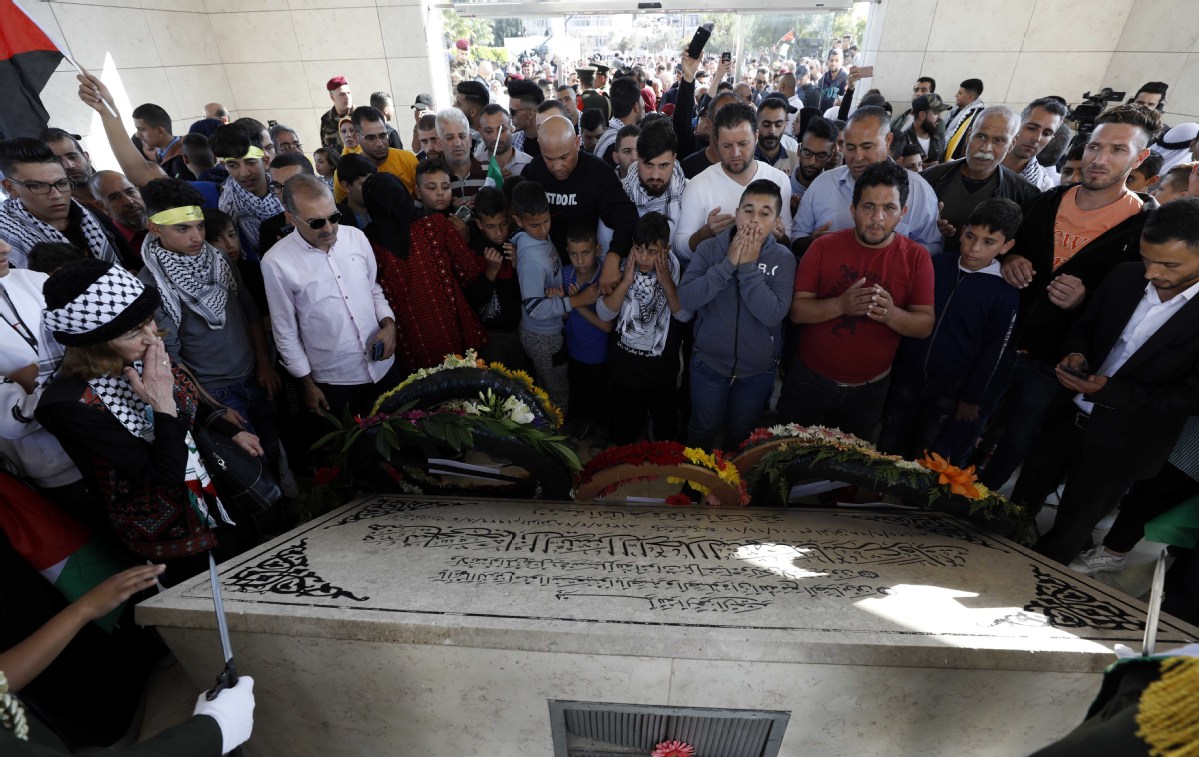 HEBRON, Palestinian Territories - Clashes erupted between Palestinians and Israeli forces on Monday during demonstrations in the occupied West Bank marking the 15th anniversary of Yasser Arafat's death. A Palestinian was shot dead and dozens of others were injured.
The UN envoy for the Israeli-Palestinian conflict, Nickolay Mladenov, said a "shocking" video purportedly of the shooting by Israeli forces being shared online "would seem to indicate that he (the victim) posed no threat to anyone".
Demonstrations were held in Ramallah and the Hebron area of the West Bank to commemorate the legacy of Arafat, the former chairman of the Palestine Liberation Organization revered as a hero by Palestinians.
Palestinian President Mahmoud Abbas, who succeeded Arafat, laid a wreath at his tomb at a ceremony in Ramallah.
"Israel says the martyrs are criminals, terrorists and murderers," Abbas said, referring to Palestinians killed by Israeli forces. "We will never agree to give up on our martyrs, our most sacred martyrs."
Sporadic clashes erupted with Israeli forces, including in the Hebron area, where the Palestinian was shot dead, the Palestinian health ministry and medics said.
Palestinian medical sources identified the man as 22-year-old Omar al-Badawi, who was hit in the chest with live fire at Al-Arroub Refugee Camp before being taken to hospital in Hebron where he was pronounced dead.
An Israeli military spokeswoman said a large number of Palestinians threw stones and firebombs at soldiers, who responded with "riot-dispersal means and live fire".
Mladenov, however, called for an investigation and offered his condolences to Badawi's family.
Palestinians pointed to purported video of the shooting being shared on social media in which Badawi appeared to be shot while not posing any immediate threat.
Saeb Erekat, secretary-general of the Palestine Liberation Organization, called on the International Criminal Court to investigate the shooting, and hundreds of mourners attended Badawi's funeral.
Medics also reported Israeli use of live fire in clashes at Fawwar, south of Hebron, one of the most tense cities in the West Bank.
The Palestine Red Crescent Society reported at least 49 injuries in total, including two from live fire.
Arafat died on Nov 11, 2004, at a hospital near Paris from unknown causes at the age of 75.
Palestinians have long accused Israel of poisoning him, charges the Israeli government firmly denies.
Arafat's body was exhumed in 2012 for tests, but an investigation found no proof of poisoning.
Agencies