Professor has unique view of China's rise in life sciences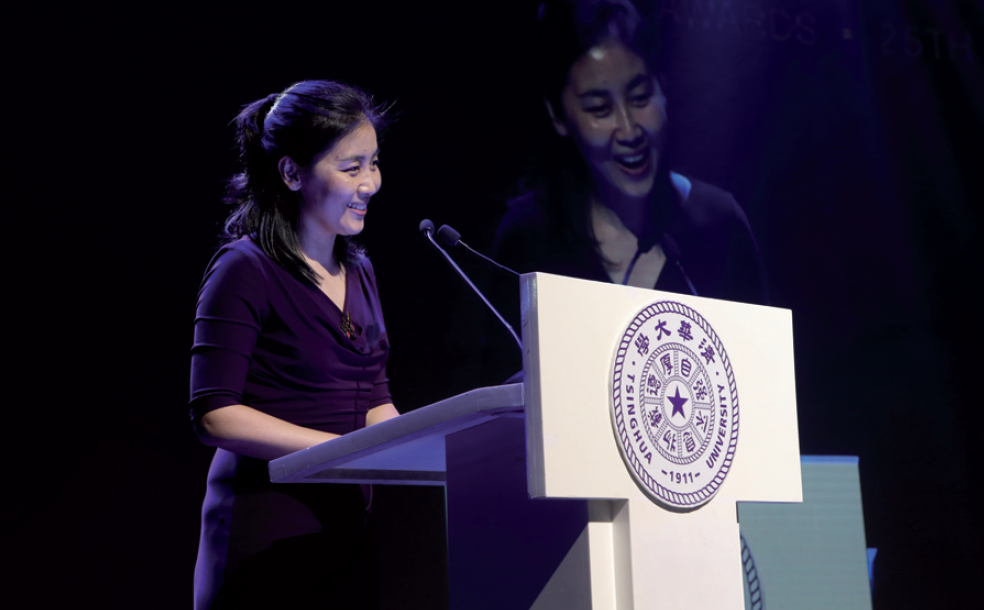 Yan Ning returned to China in 2007 at age 30 as a faculty member at her alma mater Tsinghua — the country's top university — after seven years in doctoral and postdoctoral studies at Princeton University in the US.
In the ensuing years, Yan as a structural biologist, along with her lab, would become world-acclaimed for pioneering work in the structural and functional study of membrane transport proteins, the malfunction of which is associated with many diseases.
Yan has published around 20 articles in top international academic journals, including Nature, Science and Cell, over the past decade.
She was a Howard Hughes Medical Institute (HHMI) international early-career scientist for five years starting in 2012, the recipient of the 2015 Protein Society Young Investigator Award, and laureate of the 2015 Beverley and Raymond Sackler International Prize in Biophysics.
Promoted to tenured professor in Tsinghua in 2012, she then was one of the youngest professors in the school and over the years has witnessed dramatic changes in Chinese academia, especially in the life sciences sector — a "quantum leap", as she described it to China Daily in an Oct 19 interview.
"For example, Tsinghua's schools of life sciences, medicine and pharmaceutical sciences evolved from having less than 50 labs all together to having more than 150 — that's a major advancement in volume," she said.
Yan returned to Princeton in 2017, accepting a tenured position in the Ivy League school's Department of Molecular Biology. To her, the two schools — top institutions in their own countries and places where Yan has studied, taught and established laboratories — each have high points.
Tsinghua has an exciting and vigorous environment full of young professionals and is at the cutting edge of research, she said.
The life sciences sector boom in Tsinghua is more recent, granting it a late-mover advantage, said Yan. The school has recruited a number of junior principal investigators (PI) who are bringing in new ideas and attracting talent with diverse research interests.
Princeton, on the other hand, has a more established structure and is more "traditional" compared with Tsinghua, according to Yan. To her, the US school surpasses Tsinghua in attracting postdoctoral talent.
In her Tsinghua lab, doctoral students significantly outnumbered the postdocs, contrary to what she is seeing in Princeton today.
"It is not easy to recruit talented postdocs in China — it is common for those outstanding ones to seek overseas opportunities," Yan said. She called it "a justified choice", as exploring different environments and cultures is "beneficial for researchers' paths forward".
Yan underscored the importance of postdoctoral researchers to labs. In Tsinghua, she had to train the PhDs from scratch. Satisfying as it may be, she found her own scope defined the future of the lab. The lab was more or less orbiting solely around her thoughts, resulting in its research more likely to go deeper but narrower, she said.
In Princeton, postdocs from different backgrounds could bring in new ideas and new points of view, she said, acknowledging that as "the biggest advantage" of the school.
Yan, laureate of the Qiu Shi Science and Technologies Foundation's Outstanding Scientist Award this year, suggested changes in China's strategies to attract talent, calling for more support for domestically educated scholars.
For more than a decade, China has been carrying out programs to attract international scientists, granting them funding and policy support. While China has introduced ones that do not require overseas experience, Yan called for more merit-based ones.
Yan said it is "a stage of development" for China's academia, which is catching up.
"China has a relatively short history of focusing on and supporting the basic science," said Yan, which results in not enough labs — especially those excelling in their fields — for researchers to choose.
"Things will only get better in the future," said Yan, especially with more PI-level experts returning, leading to more labs, projects and opportunities.
Chinese academia is now sufficiently funded with outstanding personnel, she said, rebutting rumors that she left Tsinghua two years ago due to a lack of funding.
"That's total nonsense," she said. "I had access to almost unlimited resources in Tsinghua."
In Yan's decade-long career at Tsinghua, her lab has achieved groundbreaking results, as she herself has won quite a few accolades.
Her laboratory has made significant progress toward elucidating the structures of human glucose transporters, the abnormality in regulation or function of which is documented as possibly leading to diabetes and cancer. Yan's team also worked out the near-atomic resolution structure of various eukaryotic voltage-gated sodium and calcium channels.
"Princeton is so special to me. It is where I grew up," said Yan. "When they offered the opportunity to me, I just could not say no — that's the same for Tsinghua."
Almost two decades after first entering Princeton, Yan today has the same email account, in which she takes great pride.
"When I first went overseas, there was still a huge gap between China and the US" in terms of research capability, said Yan. Over the years, the gaps are closing alongside changes in people's mindsets.
The younger generations are building self-confidence, she said, and some prefer Chinese opportunities to overseas ones.
Yan highlighted contributions made by Chinese scholars to US institutions, which she said are overlooked by many.
"Indeed, the students get their training in the US; nonetheless, the achievements they've made during their golden ages are also remaining here," she said.
Chinese scholars in the US have been under scrutiny this year, with the FBI reportedly urging American research universities to develop protocols to monitor Chinese students and visiting scholars in June.
China's Ministry of Education also has reported the country's students face restrictions and increasing scrutiny while applying for visas. In June, the ministry issued an official warning to US-bound Chinese students about potential risks.
"A major strength of US academia is its openness and its capability of attracting top talents from around the world," said Yan, noting that the current US policy may negatively impact the US.
"Think of how many publications from US institutions have Chinese names as first authors," she said.
In Yan's case, she is leading the university's efforts in cryo-electron microscopy, the development of which was awarded the 2017 Nobel Prize in Chemistry and has "propelled structural biology into a new era", she said.
The importance of Chinese scholars was echoed by leaders of top US universities. The presidents of Yale and the Massachusetts Institute of Technology and the chancellor of UC-Berkeley each sent out a campuswide email on the significance of the Chinese community to their schools.
"Mankind is going to face many critical questions. People really need to cooperate to solve those problems," said Yan. "If education, as well as advancement in science and technology, could help enhance the personal qualities for all, more will benefit."
Judy Zhu in New York contributed to this story.