Russia, Cuba keen to rebuild relations forged during Cold War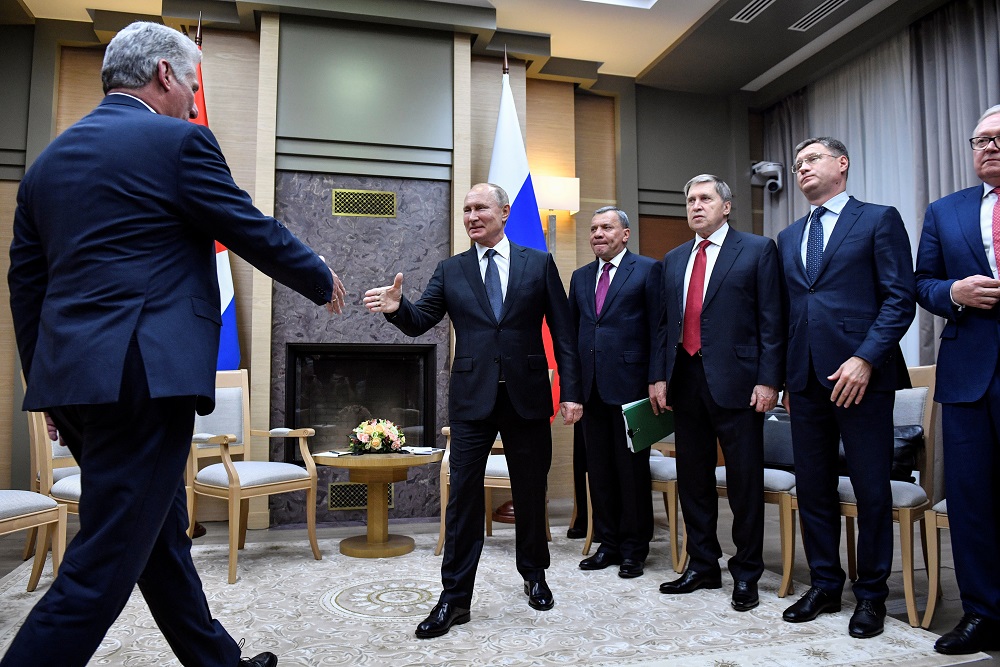 Russian President Vladimir Putin has accepted an invitation from Cuban President Miguel Diaz-Canel to visit the island nation in a sign to Russian experts of Havana's increased importance for Moscow as a political ally and a gateway to Latin America.
The invitation was extended by Diaz-Canel when he met Putin for talks in Moscow on Tuesday.
The Cuban leader's first trip to Russia as president followed that by Russian Prime Minister Dmitry Medvedev to Havana earlier this month.
Diaz-Canel's visit came against the backdrop of a significant warming of bilateral ties, prompted in part by the United States' reversal of the policy of engagement with Cuba that was initiated by Barack Obama during his presidency.
Moscow is Diaz-Canel's first stop of on a visit to Europe, and he said it showed that Cuba prioritizes relations with Russia.
During their meeting on Tuesday, Putin told Diaz-Canel that Russia has always remained supportive of Cuba.
"It's not easy to solve economic and social issues in the conditions that Cuba finds itself in, but you have done it successfully," he said. "We are glad to see the strengthening of the Cuban state."
According to The Associated Press, Russian-Cuban ties are still far from the Cold War era of near-total Cuban dependence on the Soviet bloc, which saw the island as a forward operating base in the Americas, before Moscow largely abandoned it in the 1990s.
But observers of Cuban and Russian foreign policy say there has been a significant warming between the old partners, prompted in part by US President Donald Trump's more hostile policies toward Cuba.
Tatiana Mashkova, deputy chairman of the Russia-Cuba Business Council, said Russia may benefit from the canceled "reset" of US relations with Cuba that had begun during Obama's presidency.
Mashkova said when the US announced that diplomatic relations with Havana were being re-established, Cubans were euphoric as they hoped that this would bring about the removal of sanctions and a huge influx of US tourists.
"At first that was true, but now hotels are empty, and their agricultural products, contrary to expectations, are still not in demand in the US," Mashkova added.
Meanwhile, trade between Russian and Cuba is on track to more than double since 2013 to an expected $500 million this year, mostly with Russian exports flowing to Cuba, government figures showed.
Over the past year, Russia has sent Cuba 1,000 minibuses, 50 locomotives, tens of thousands of tourists and a promise to upgrade the island's power grid with a multimillion-dollar improvement plan.
"Russian-Cuban economic relations are now at a level that both parties can afford," said Nikolai Kalashnikov, deputy director of the Institute of Latin American Studies of the Russian Academy of Sciences.