More outdoor exercise may help battle myopia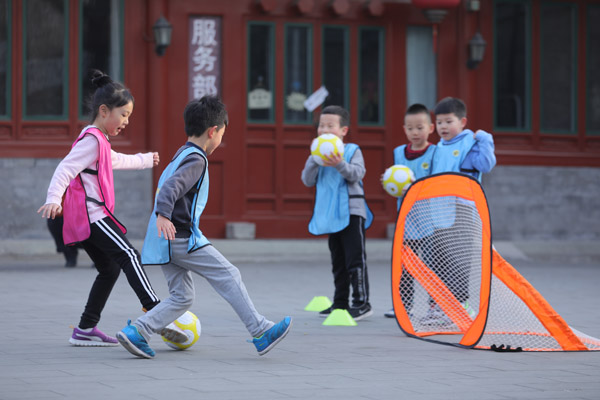 A recent survey shows that 57.3 percent of primary and high school students in Beijing are nearsighted, compared with the national average of 53.6 percent, an official with the municipal disease prevention and control center said on Wednesday.
Myopia in young children escalates rapidly during the six years of primary education, with the rate of nearsightedness among surveyed pupils rising from nearly 12 percent for first graders to almost 66 percent for sixth graders, according to Wei Xiong, deputy director of the Beijing CDC Center.
About nine out of 10 senior high school graduates are nearsighted, and more than one in four of them have developed high myopia, a condition closely associated with potential blindness, he said.
The survey of about 41,000 students was conducted last year by the municipal CDC center and its health commission.
In an accompanying survey that looks into common illnesses of young students in Beijing and their correlating factors, Wei said the amount of time that students spend on outdoor activities every day is not satisfactory.
About 64 percent of young students in Beijing spend less than two hours a day playing outdoor sports, the length recommended by the Ministry of Education. Another 20 percent fail to receive one hour of exercise outdoors, Wei added.
Research has shown that exposure to sunlight, especially in an intermittent manner, can help curb the development of myopia, said Wei Wenbin, vice-president of Beijing Tongren Hospital.
"It is paramount to raise awareness of eye care and to maintain a sufficient amount of outdoor activity among primary students and their parents," he said, "because eyes of younger children are particularly vulnerable to eye strain or prolonged use of electronic devices."
In 2012, there were about 450 million nearsighted people in China - and that number is expected to rise to 700 million by 2020 if interventions are not implemented, Wei quoted a white paper released in 2016 by the Peking University's China Center for Health Development Studies as saying.
To tackle the issue, the Ministry of Education, together with seven other government departments, issued a guideline last August calling for, among a series of measures, lighter academic workloads and more opportunities for students to participate in outdoor activities.