Statement at UN supports China on Xinjiang
Share - WeChat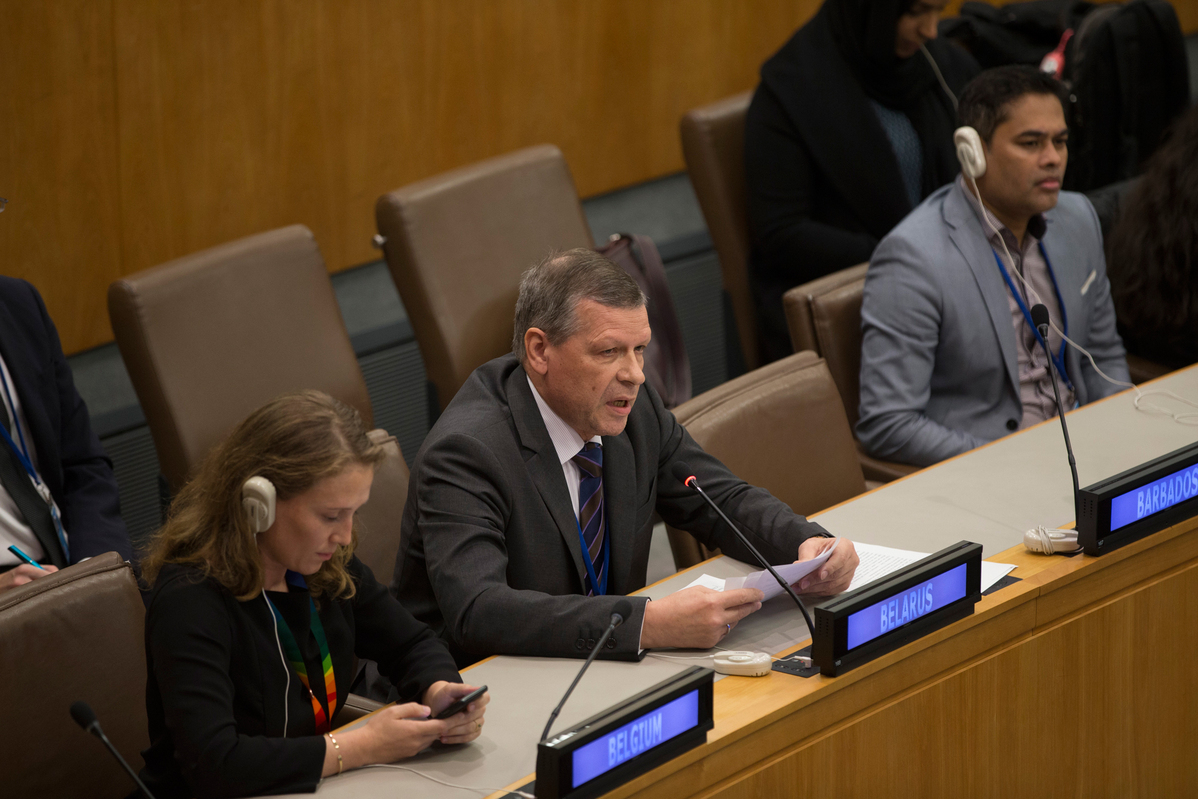 Belarus made a joint statement Tuesday on behalf of 54 countries in firm support of China's counterterrorism and de-radicalization measures in the Xinjiang Uygur autonomous region.
During a discussion on human rights at the Third Committee of the United Nations General Assembly at UN headquarters in New York, Belarus made the statement on behalf of countries including Pakistan, Russia, Egypt, Bolivia, Democratic Republic of the Congo, and Serbia. It praised China's people-centered development philosophy and development achievements.
The statement spoke positively of the results of counterterrorism and de-radicalization measures in Xinjiang, noting that these measures have effectively safeguarded the basic human rights of people of all ethnic groups in Xinjiang.
The statement said that terrorism, separatism and religious extremism have caused enormous damage to all ethnic groups in Xinjiang, which has seriously infringed upon human rights, including the right to life, health and development.
"China has undertaken a series of counterterrorism and de-radicalization measures in Xinjiang, including setting up vocational education and training centers," the statement said, adding that safety and security have returned to Xinjiang now and "the fundamental human rights of people of all ethnic groups there are safeguarded".
The statement also supported China's commitment to openness and transparency, mentioning it has invited a number of diplomats, international organizations, officials and journalists to Xinjiang to witness the progress of the human rights cause and the outcomes of counterterrorism and de-radicalization.
"What they saw and heard in Xinjiang completely contradicted what was reported in the (Western) media," it wrote.
The statement expressed opposition to relevant countries politicizing the human rights issue and called on them to stop baseless accusations against China.
"We express our firm opposition to relevant countries' practice of politicizing human rights issues, by naming and shaming, and publicly exerting pressures on other countries," it wrote.
"We call on relevant countries to refrain from employing unfounded charges against China based on unconfirmed information before they visit Xinjiang," it wrote.
At the meeting, more than 30 countries, including Kyrgyzstan, Pakistan, Russia, Cambodia, Myanmar, Vietnam, Ethiopia, Cuba and Nicaragua, voiced support for China's position and measures on human rights.
The Kyrgyzstan representative said the Kyrgyzstan Republic considers Xinjiang Uygur autonomous region affairs to be purely an internal affair of China and "appreciates the efforts of the government of China to preserve the Uygur culture and religious freedom and freedom of nationalities of Xinjiang and supports the measures taken by the Chinese side to ensure Xinjiang's security, stability and development".
"The measures taken by China to address the situation and continue the economic development in Xinjiang are fundamental for the people of China, which is supported and appreciated by the international community," said the Cambodia representative.
"We commend China's efforts to combat terrorism and extremism in Xinjiang in accordance with the laws. We would like to reiterate our opposition to any countries to use human rights as an excuse to interfere any country's internal affairs and attempts to put pressure in the name of human rights should be avoided," said the representative from Myanmar.
Zhang Jun, permanent representative of China to the UN, refuted the "baseless" comments on Xinjiang made by the United States and some other countries.
Zhang said that the US and a few other countries made "groundless accusations" against China, which is "gross interference in China's internal affairs and a deliberate provocation of confrontation".
"China firmly opposes and rejects it," he said.
He reiterated that Xinjiang's preventive measures of counterterrorism and de-radicalization are based on law and consistent with the will of the people.
"This is not about human rights and has nothing to do with racial discrimination," he said. "China wants to tell the United States and other countries not to confront the international community and not to go any further on the wrong path."