Experts call for probes of overloaded trucks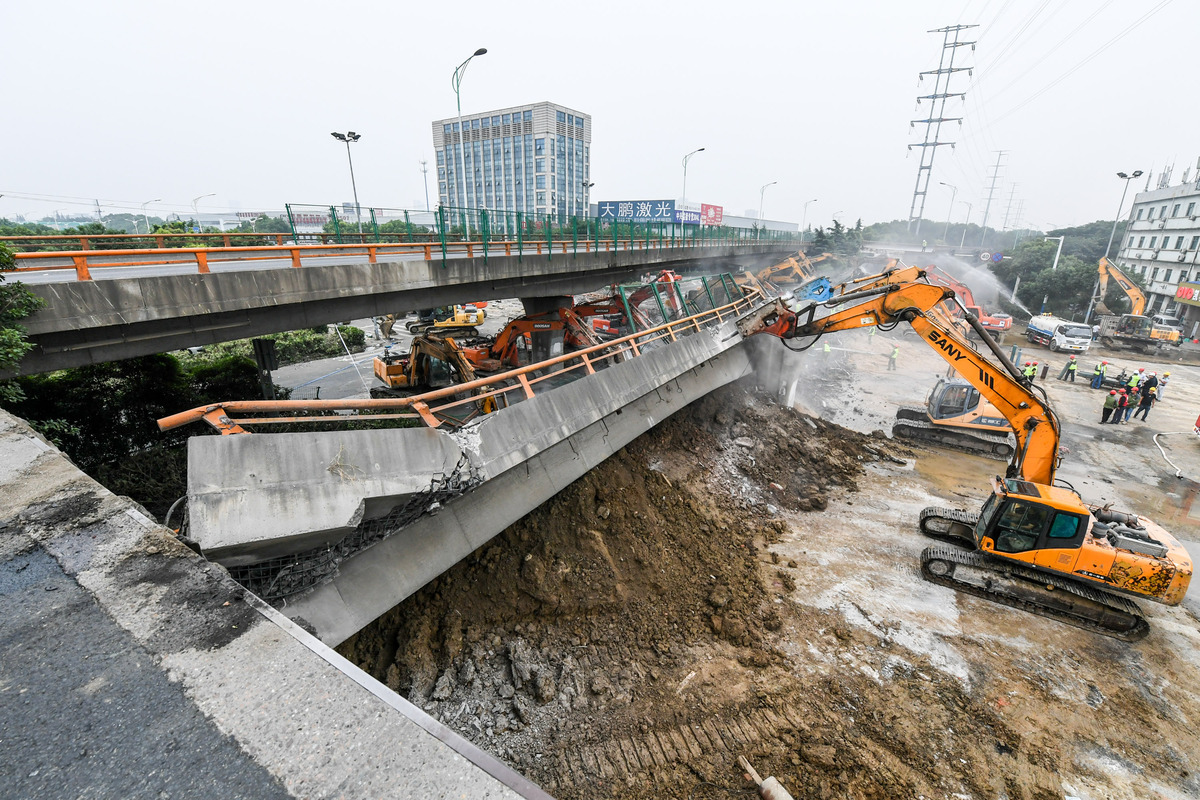 Freight industry experts have called on authorities to intensify inspections of trucks on short-haul freight routes and optimize the country's transportation structure. The call comes amid a crackdown on overloaded trucks following a recent catastrophic overpass collapse.
On Oct 10, a heavily overloaded truck caused an overpass on National Highway 312 in Wuxi, Jiangsu province, to tip to one side and collapse. A woman and her 5-year-old daughter were crushed to death in their car. A man in another car was also killed, and two other people were injured.
The truck was loaded with over 170 metric tons of steel coils - nearly 120 tons more than the permitted maximum - which is equivalent to carrying a Boeing 777 jetliner.
Authorities have previously declared war on overloaded trucks, but overloading and other violations of traffic rules have proved to be intractable problems.
In both 2004 and 2011, the Ministry of Transport, together with a number of other departments, launched comprehensive campaigns to stamp out overloaded vehicles. In 2016, launching a nationwide campaign targeting safety hazards, the ministry issued regulations saying the maximum weight of goods should not exceed 50 tons.
"The decadelong efforts have seen fewer overloaded trucks when it comes to long-distance freight, since authorities adopted many technological methods on the highways to strengthen the monitoring of such malpractice," said Li Muyuan, an expert at the China Communications and Transportation Association.
However, when it came to moving freight over short distances, overloading or improper loading were still rampant due to a lack of traffic police and checkpoints, he said, adding that the truck involved in the fatal accident had set off for Wuxi from Jiangyin, only 70 kilometers away.
But industry insiders said most of China's 30 million truck drivers were forced to cut corners to make a living in the face of skyrocketing fuel costs and falling orders.
Zhang Lixiao, a 43-year-old truck driver from Shanxi province with over 20 years experience, said drivers don't want to drive dangerously overloaded trucks on the road, but it was the only way to make money and survive in the industry.
"Once there are logistics companies overloading their vehicles, they are able to offer services at more favorable prices. If we insisted on playing by the rules, we would end up with only a handful of clients and soon be thrown out of the game," he said, adding that China's road haulage sector had been going through a serious downturn this year.
Freight income had dropped from 10 yuan ($1.40) a kilometer in 2016 to 6 yuan this year, Zhang said, adding that shrinking orders and surging oil prices had only added insult to injury.
Yang Xinzheng, an expert at the China Academy of Transportation, said the overloading of trucks was ultimately caused by a lack of effective government supervision.
"Overloaded trucking is, without a doubt, more profitable, which enabled operators to cut prices to below the normal market standard," he said. "The rat race forced their peers to choose overloading to make ends meet."
According to a three-year plan issued last year by the State Council, China's Cabinet, to push ahead with the restructuring of the transportation sector, the rate of overloading is expected to drop below 0.5 percent next year. The plan did not mention the existing rate nationally, but statistics released by several provinces, including Hunan, Zhejiang and Jiangsu, give a range of 0.45 percent to nearly 3 percent.
To achieve the goal, authorities should step up efforts to crack down on overloaded trucks on short routes and turn to the adoption of technologies instead of resorting to extra manpower, Li said.
"Overloaded trucks are not that hard to control," he said. "They can be spotted by people, let alone the wide network of surveillance cameras, which should also be placed along the roads, especially in the ports and freight stations.
"And weighing equipment for freight vehicles should also be applied at toll stations across the board to facilitate supervision."
And when it comes to punishment, Li said, the logistics companies should take most of the responsibility rather than the drivers, who are at their bosses' beck and call. Only when the companies stop their cutthroat competition will a healthy and fair environment be established, he added.
In addition to tougher supervision, experts said authorities should optimize the country's transportation structure by raising the proportion of heavy cargo such as coal and steel carried by trains.
Data from the National Bureau of Statistics showed that about 6 percent of Chinese freight was carried by rail last year, compared with 77 percent by road.
Authorities should speed up the construction of railway lines for exclusive use by large industrial and mining enterprises and logistics zones, with more efforts made in the market-led transportation pricing system as well, said Qin Lu, a professor of logistics economics at Beijing Jiaotong University.
"With flexible and better coordinated train arrangements and price advantages, the service of railway transportation will be further boosted," she said. "But railway construction requires a lot of time and money. Regarding long-term planning, it might take another decade to see some progress."