Tourists, residents turned off by HK unrest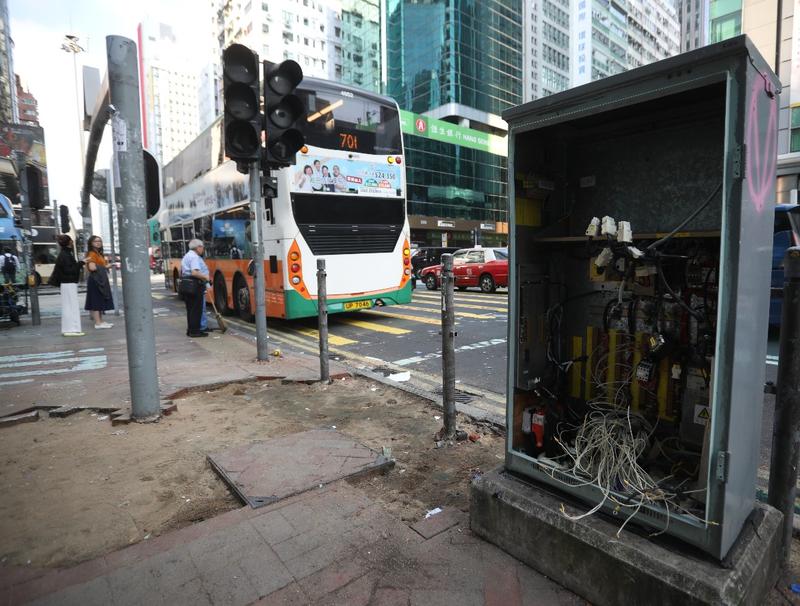 The wanton destruction of property in Hong Kong by violent radicals on Sunday has "scared" and "saddened" people in the city.
In the 20th straight week of violent protests, rioters targeted Chinese mainland-linked shops, banks and bookstores in Kowloon, a densely-populated area home to multiple businesses and transportation networks.
Radicals pried open metal shutters of some shops, vandalized the premises and set fires. They also hurled gasoline bombs at the Tsim Sha Tsui police station and launched arson attacks in Mong Kok and Yau Ma Tei.
Residents and tourists shared their feelings with China Daily on Monday after the weekend unrest.
Walking down Nathan Road, one of the main thoroughfares in central Kowloon, China Daily reporters on Monday morning saw many cleaners sweeping up broken glass and scrubbing graffiti from walls and windows. There were few tourists to be seen.
With almost all traffic lights along the six-lane road out of service, traffic was chaotic, with pedestrians and vehicles vying for forward progress.
With extensive damage to three major subway stations — Mong Kok, Yau Ma Tei and Tsim Sha Tsui — many passengers, both morning commuters and tourists, had to try their luck trying to find station entrances still open on Monday. Passengers had to line up to exit Tsim Sha Tsui station, as only four of 11 entrances remained functional.
Australian tourist Sophie Norr said she had to walk from Tsim Sha Tsui to Jordan after failing to find any passable entrances at Tsim Sha Tsui.
Saying she was "scared" to see rampaging protesters, Norr, 20, added she had scrapped her plans to tour the city on Sunday. She described the acts of trashing subway entrances and facilities as "insane" and felt sorry for those tasked with carrying out repairs.
Unable to open for business on Monday was a flagship store of Xiaomi, a Chinese mainland tech company, that was almost burned down over the weekend by protesters. Branches of many banks were still undergoing repairs and were only able to offer limited services Monday morning.
Alex Mo, a 30-year-old who works in finance, took the initiative to take down posters put up by demonstrators on his way to work. Mo said he is "furious and saddened" to see the extensive damage done by violent radicals. He doubted if vandalizing shops had anything to do with the quest for democracy and freedom. "They are thugs," Mo said.
His opinion was echoed by a clerk in her fifties who disapproved of damaging shops due to anti-China sentiments.
"If you don't like made-in-China products, you can throw what you have at home away as almost everything is made in China now. But you have no right to break into other people's shops," she said. "After all, we all live in the same place. Hong Kong is our home, beautiful and neat. Seeing what it has become, nobody is happy," she said.
The widespread acts of violence have drawn wide condemnation from different institutions.
The Hong Kong Police denounced the vandalism. Police iterated in a statement early Monday that no violent behavior will be tolerated and resolute action will be taken to bring offenders to justice.
In a statement issued Sunday night, MTR Corp, the city's subway operator, expressed its deepest indignation and strong condemnation. "These unlawful acts not only disrupt railway service but also threaten the safety of passengers and our staff," the statement read.
The chairs of the governing bodies of eight Hong Kong universities said in a joint statement that every faculty member and student will be held responsible for the consequences of their acts and must abide by the law at all times.
The joint statement came after a growing number of university students have been arrested for violating laws in a series of anti-government protests.
It added that universities should not become battlefields for solutions to political disputes, and those who run afoul of the law and university regulations are subject to disciplinary measures, including suspension and expulsion.