Datong trades coal for cleaner solutions
Share - WeChat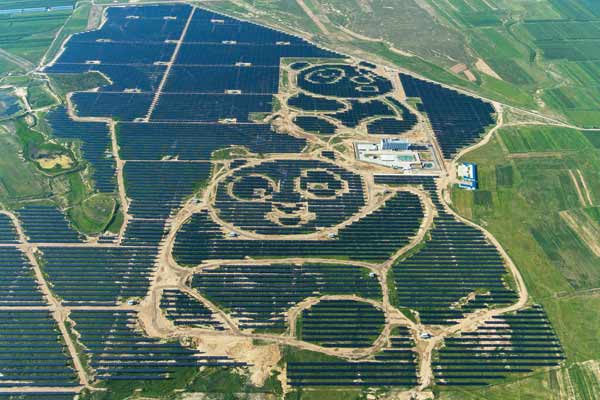 Datong, a city once dominated by coal in Shanxi, is breaking tradition and seeking a greener and more sustainable development path.
Since 2017, Datong has gradually reduced its dependence on coal, and announced plans to build itself into a "clean energy supply hub", "coal-based scientific and technological achievements application hub" and a "new energy high-end equipment manufacturing hub".
A solar power field, made into the shape of a giant panda, was put into operation in the city in 2017. It was jointly established by Datong and the United Nations Development Programme with the purpose of cultivating future climate action leaders. The panda-shaped solar power field has come to represent Datong's pursuit of new energy development, local officials said.
It is estimated that within 25 years, the solar power field will provide 3.2 billion kilowatt-hours of green electricity. To produce the same amount of electricity with coal, 1.25 million metric tons of coal would have to be burned.
At the beginning of this year, Datong launched 12 major projects, expecting to drive the city to become a leader in green energy. Local officials said they hope to form a new force for the city's transformation through heavy investment in clean energy and encouraging entrepreneurship in that field. So far, Datong is leading the development of wind and solar power in the province.
As of the end of June, Datong's new energy installed capacity is 4.66 million kW, accounting for 35 percent of the city's installed electricity capacity. Of that, wind power has an installed capacity of 1.88 million kW, solar has 2.68 million kW, and biomass and other new energy has around 100,000 kW, according to figures from the local government.
Datong has made great progress in its wind power development. By the end of June, Datong's 19 wind farms connected to the electricity grid accounted for 23 percent of the province's total power output.
The city has also built a national advanced technology solar power demonstration base in an old coal mining subsidence area. Covering 1,687 square kilometers, the area used to be a big problem in terms of ecological management. Now, its second phase project, which has a total scale of 500,000 kW, is fully connected to the grid for power generation.
Wang Mingsheng, director of the Datong development and reform commission, said that by the end of 2020, Datong's wind power installed capacity will reach 5 million kW, solar power will reach 4.9 million kW, and new energy will account for 50 percent of the total energy produced.
Datong is one example of Shanxi province's pursuit of high-quality and sustainable development. Many other cities, which were dominated by coal-fired power plants in previous years, are also exploring their own ways to develop new energy and growth engines.
Lyuliang, a traditional coal city, is making efforts to develop its big data industry. The city has partnered with the National University of Defence Technology and companies including Huawei to introduce the Tianhe-2 supercomputer, Huawei cloud computing and other major projects.