Chinatown weeps for slain homeless man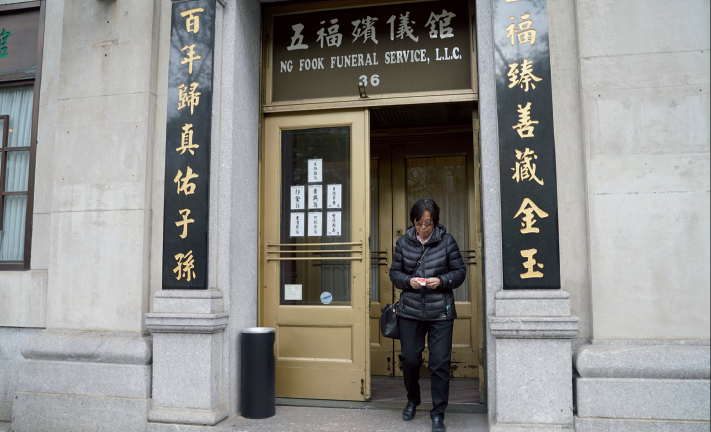 A touching wake was held Thursday for a homeless Chinese man who was murdered in New York, as friends gathered to pay their respects to a "gentle" and "quiet man" whose "life mattered".
The gathering to remember Chuen Kwok, 83, affectionately known as "Uncle Kwok", drew friends who knew him and those who had passed by him as he sat in a doorway at 2 Bowery. Others came to say a tearful goodbye to Kwok, as his body lay in an open brown coffin at the Ng Fook Funeral Service in Chinatown.
Police said Kwok and three other homeless men were fatally bludgeoned by another homeless man, Randy Santos, 24, who wielded a 15-pound metal pipe shortly before 2 am on Oct 5. The attacker also left another man injured.
Shirley Ng, 52, a friend of Kwok's, said she had met him once on Sept 23, when she and her friend Kim bought him a chashu bowl (roast pork bun). She took a photograph that was eventually used on Facebook to identify him and was on an easel beside his coffin.
"Kim would drop food for him, so she told me to come along. He was very quiet, very shy. He would nod, and he spoke when we would ask him his name, birthday, where are you from. He was not a conversationalist, but he did not looked depressed or angry or grumpy," she told China Daily. "He was sitting down looking up at us, content where he was."
Kwok told local residents that he had no family. But another local said he had been married but his wife passed away. He used to sell fish and had worked in a restaurant before he became homeless. He was also a self-described writer and minister.
Lois Lee, a local resident and friend of Shirley Ng, wanted to show support for her community.
She told China Daily: "He knew he was loved. This was his neighborhood, these are his surroundings. … Every life makes a difference. His life made a difference and it touched others. If you touch one person, then your life has purpose."
Kwok will be laid to rest at 10 am Friday. The funeral home covered the costs. Another man, who did not want to be identified, donated a $200 designer suit for him to wear.
Inside the funeral home, rows of chairs were arranged to welcome visitors who wanted to say goodbye.
A handful of mourners, many of whom spoke only Cantonese and little English (like Kwok), mulled around his coffin, which had two white lamps on each side.
"That's the best I ever seen him dressed," said Omar Robinson, 50, a homeless man living on the streets near Chinatown, who knew Kwok. "I'm happy to see him dressed like that. God's going to put him in a better place."
Kwok would often receive help from neighbors and passers-by who said he always expressed gratitude. But he never talked about how he became homeless. Each night, he would sleep in the same doorway.
Xiaozhen Li, 43, a local resident from Guangdong province who knew Kwok for seven years, held back tears. "He greeted people all the time. He was very polite. He would bring breakfast to my daughter. He was so kind. His death is a total tragedy," Li said.
Another man, Zhao, 81, a local resident from Guangzhou who didn't want to give his full name, told China Daily: "I have seen Kwok often on the street. I need to pay tribute to him."
Santos has been charged with four counts of second-degree murder, one count of first-degree murder, one count of attempted murder and one count of unlawful possession of marijuana. Santos' next court date will be on Oct 28, before Justice Laura Ward.
In the aftermath of the murders, Mayor Bill de Blasio deployed mental health outreach teams to Chinatown to aid existing homeless efforts, provide additional social services and increase security measures.
Democratic New York state Assembly member Yuh-Line Niou knew Kwok and another man who was murdered. She used to give him food.
"We need to make sure we take care of people when they're here," she said. "We have a systemic problem. We need to make sure we're listening and understanding what's going on in our communities."
Luzy, a local resident who did not want to give her surname, helped create a makeshift memorial for him. She said Chinese people believe his spirit would come back to the place he died in seven days. She also held a Buddhist ceremony in his honor and believes he did not die in vain.
"In Buddhism, we believe we have an afterlife. I said maybe this is his mission. He's not just quietly dying and no one cared. He had a big finale! Everyone will hear his story."